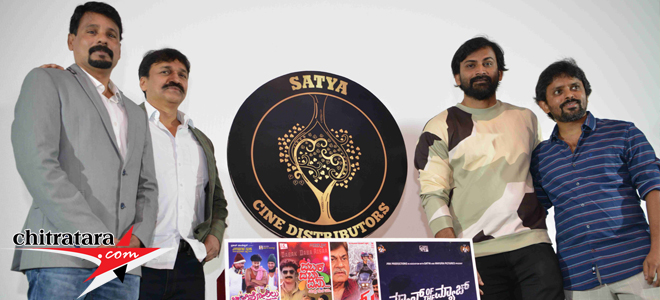 The thought provoking director of Rama Rama Ray, Ondalla Eradalla and now 'Man of the Match' Sathyaprakash in just four years earned honors and now evolved a distribution office for hundreds of needy persons of the Kannada cinema industry. Producer of 'Week End' Manjunath and Prakash backs him in his endeavor.
The new scheme beneficial to the producers 'Sathya Cine Distributors' inaugurated by popular hero cum producer Dolly Dhananjay on Thursday morning – 5th of January 2022. Sathyaprakash has his 'Sathya Pictures' and it is the official producer of 'Man of the Match' Kannada cinema that is under production.
Dolly Dhananjay wishing his friend Sahtyprakash best of luck disclosed how the setbacks come and go in our profession.
I am a writer and do not have much money. When I met Prakash Pandeshwar in Mangaluru we discussed this idea. My earlier films suffered badly in business. When the idea mooted the distributor office, Deepak Gangadhar and Manjunath D joined our hands. D Sathyaprakash continuing his speech said we intend to build 150 capacity theaters in each of the districts. There is very much competition via technology in watching the film. The people accepting films are very tough today and responsibility is increasing he stated.
This will be a useful platform for producers who do not have an idea of releasing the film. we have plans to take the single theater on lease, added director and producer Prakash Pandeshwar.
Manjunath D said producing a film is easy. Marketing of it is very difficult. How to release in the wake of Corona and lock down is the thought process of hundreds of producers. Such people can get guidance from our 'Sathya Cine Distributors' office mentioned producer Manjunath D.