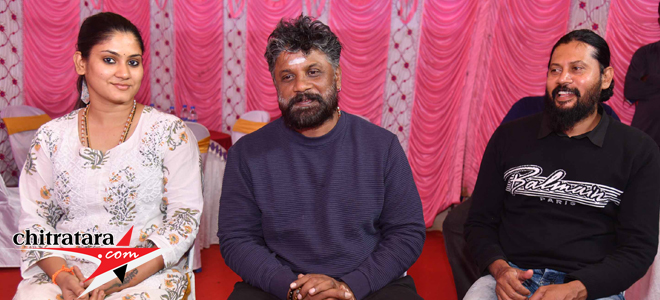 Another talented, hard working actor recently turned director Dhuniya Vijay makes a leap into a Telugu film. To disclose his happiness invited the media to his residence for a tea party get-together on Thursday evening. After 14 long years – from Dhuniya blockbuster to Salaga blockbuster Dhuniya Vijay has grown tremendously.
The meeting was very informal and it was a freewheeling chat with Dhuniya Vijay. Look at his observations on his new achievement.
· This Telugu film is an action cum performance role suggested by fight master Ram Lakshman. They waited for 20 days and finally I gave them a nod. I am Duniya Vijay in the Telugu title card! As of now, it is Nandamuri Balakrishna 107th film in Gopichand Malineni direction.
· They have narrated the script and Telugu has its own style. It is a mature and strong role. I have a beard in my role. I have no language issues. In Kannada, we have some peculiar artists. In fact, I missed six films in other languages. That was because of other problems. I still look for performance and not action with weapons.
· I keep my work in memory; there are difficulties in life. Cinema has given me everything. My innocence was capital for others.
· After I come back from Telugu, I have another interesting point to make. That is only after six months completing the Telugu. I got four references from the director team. That is just by looking at my photo.
· Of course sometimes my involvement brought a bad name. I am looking for my route.
· As a director from Salaga I have learnt 'Talme' (patience). My anger has come down. For no mistake when I am criticized, I am in anger.
· I want to be a common person like 'Mane Maga' – it should be a liking for all I feel. I do not get into production. I want to act in all other languages.
· It is the contentment that is difficult to get. What kind of performer applauds is what I am looking for.
· Yes, I get good remuneration in Telugu but not demanded. You know it is an invitation and when proved it will be a different matter.
· Elli Saraswathi alli Lakshmi Barthale. We have writer`s problems. That is big minus today. When we get writers then we go up. Take for example 'Drishyam' of Malayalam = it went to many languages including Kannada.
· I have a few concepts; I want it to tell the audience. I will direct myself. Immediately after Salaga I got scripts and was told to direct. I will not leave Kannada.
· Hero position plus villain I do not mind besides doing direction. Today the villain stands strong till the last frame.
· Balakrishnaji in Simha and Vijay is Salaga. Nandini Deluxe and Kamath Hotel mix is happening - dialogue writer Maasthi.
· Keerthi Dhuniya Vijay wife – I know what my husband desires. His Kushi is mine too. It is a big banner film in Telugu. Vijay`s mother did not know about this Telugu film.