BHAJARANGI 2 10 CRORE MINUTES VIEWS
Posted date: 10 Mon, Jan 2022 03:33:52 PM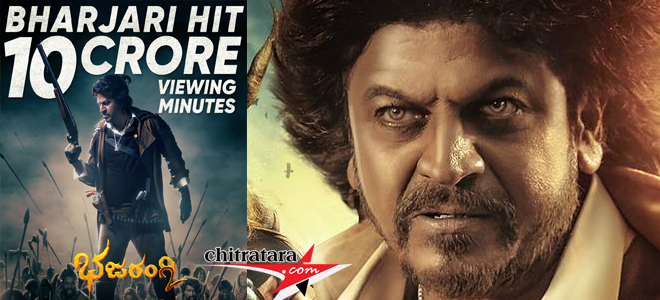 Off late new distinctions discovered in the wake of cinema halls screening of top star films are not getting massive response!
The days of 100 days have gone, the fifty days has become rare, the posters is put in days calculation too. There are examples of 10th day, 11th day,13th days in the past for some of the Kannada films.
As the television media is growing superfast with its own OTT platforms, the minute view is also calculated to capture attention. Bhajarangi 2 is Bharjari` hit, says director A Harsha.
It is known that the demise of power star Puneeth Rajakumar on the day of release of Bhajarangi 2 resulted in a massive setback for Dr Shivarajakumar film.
The producers of Bhajarangi 2 Jayanna and Bhogendra stepped in to the OTT release after a few days.
In Zee 5 OTT 'Bhajarangi 2' of Dr Shivarajakumar film in A Harsha direction screened on December 23. In 16 days so far the film achieved 10 crore minutes views is a whopping development. The film in just three days got 5 crore minutes views.
With the huge response to top quality films in OTT, there is rush in different OTT platforms. Come January 13, another super hit Kannada film `Garuda Gamana Vrishabha Vahana`of Raj B Shetty direction with Rishab Shetty and Raj B Shetty in lead roles is hitting Zee 5 OTT platform.
Kannada Cinema's Latest Wallpapers
Kannada Cinema's Latest Videos
Kannada Movie/Cinema News - BHAJARANGI 2 10 CRORE MINUTES VIEWS - Chitratara.com
Copyright 2009 chitratara.com Reproduction is forbidden unless authorized. All rights reserved.