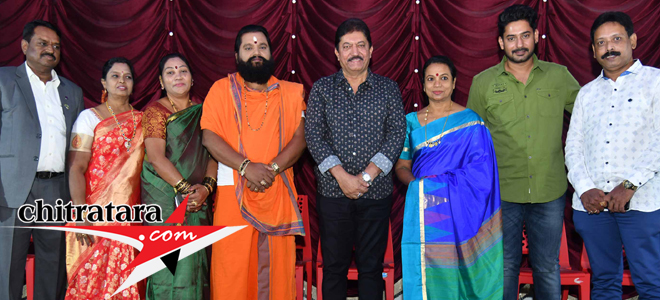 It is a rare development in the Kannada film industry. The trailer of father film unveiled by son – Prajwal Devaraj released the trailer of his father`s dynamic star Devaraj film `Maana` on Monday evening at Renukamba Digital theater. Sebastin David adapted Kum Veerabhadrappa short novel `Uda` for this film. Kum Vi knowing that Devaraj and Umasri are in the cast, took special initiative and worked on a new screenplay in fifteen days time.
Producer Ramesh Babu expressing happiness on the script, cast, technicians working for this film frankly admitted that it is because of Devaraj agreeing to act he came to invest in this film. Umasri had also given a good performance and I am 100 percent confident in the success of the film he said.
Director Sebastin mentioned special thanks to Kum Vi writer for giving another update on his short story knowing the artists like Devaraj and Umasri in the cast. When Devaraj was told that he is a hero knowing the name of Umasri he said is she my heroine?
Releasing Papa`s film trailer Prajwal felt happy because he had come as his father`s fan to the occasion. In fact on knowing the subject at home I insisted on my father to accept this film and seeing the trailer I confirmed my father had done a very good job in this film he applauded.
Dynamic star Devaraj thanked for a very good subject coming to him and producer=director insisting him to do. I had done a similar role of 'Jeetha' in the past but the main difference here is that I do not revolt back. The humble and cool innocence pack in the role gives answers to issues in its own way. This character is very 'Sookshma' and understands the situation and gives answers with a humour touch in it. I am happy because my son is coming to the trailer release event said Devaraj. When actors like Anantnag, B Jayasri, Umasri are in the cast it is a competition. In this film I acted with Umasri, a highly talented actor he admired.
National award winning actress, politician Umasri felt equally happy for accepting this role and doing the wife role with Devaraj. I agreed because of the author of this subject and Devaraj in the cast. We hope that this will click well when it is released. The support from the media is essential, she stated.