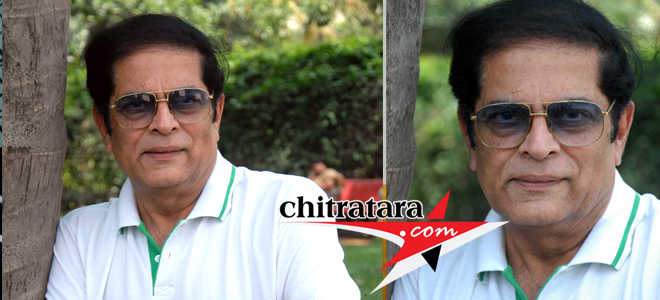 On 2-2-22 a veteran actor of Kannada cinema Ashok Rao – a cool villain with stunning voice passed away after a brief illness. Good in height and looks, soft spoken but stern in his outlook Ashok Rao is known for his voice that has given him additional mileage in a few decades in Kannada cinema.
Ashok Rao roots are from English theater. He hails from Kasargod and his ability brought him to act in Dr Rajakumar film 'Parashuram' as villain. Another talented actor CR Simha introduced Ashok Rao to Dr Rajakumar family and thereafter a major role in 'Parashuram'.
The breakthrough he got from Dr Rajakumar film was such that he could accept 'Akasmika' film of Dr Rajakumar – Ashok Rao was so busy = he later acted in Dr Shivarajakumar and Raghavenda Rajakumar films.
Ashok Rao had acted in nearly 250 Kannada films and his monotony did not brought him work haphazard. I don't look like villain but behave like villain for silver screen he told once.
Ashok Rao image from villain was changed in Nagathihalli Chandrasekhar 'Baa Nalle Madhuchandrake' debut of IAS K Shivaramu but it did not work out.
Not only in Kannada Ashok Rao acted in Tamil, Telugu, Hindi, English and Konkani language films. The superstar of Kannada cinema Dr Raj, Dr Vishnu, Dr Amharish, Shanker Nag, Anant Nag, Prabhakar, Devaraj, Kamal Haasan, Rajanikanth films he got his primacy in villain roles. In one year he used to work in 15 films and three schedules in a day he was busy.
Kannada films like Avesha, Jodi Hakki, Aralida Hoovugalu, Thamassu, Maththe Hadithu Kogile, Kala Chakra, Ashwamedha, Ashoka Chakra, Tuvvi Tuvvi, Sikkapatte Ishta Patte, Shivam, Vasundhara, Brahma, Ati Aparoopa, Parinaya, Shatru, Mugila Chumbana, Rana Pratap, Boss, Police Kathe, Jedrahalli, Hoo, Krishnan Love Story, Mathad Mathad Mallige, Bombaat, Operation Ankusha, Tavarina siri and others are some of his notable films. In the recent times he acted in Alidu Ulidavaru Kannada film.
Ashok Rao had a good stint in television channel too, his role in Madadi mega serial, Mahayagna, Nachiketha, Uyyale are notable ones.
Ashok Rao leaves behind wife, son and daughter in law. He was running Ashok Medicals near 17th Cross Malleswaram, at the Covid Pandemic time the Oxygen supply was one of his social service to the needy people.
It is learnt Ashok Rao was suffering from Cancer decease. He was residing at Vidyaranyapura colony in Bengaluru.