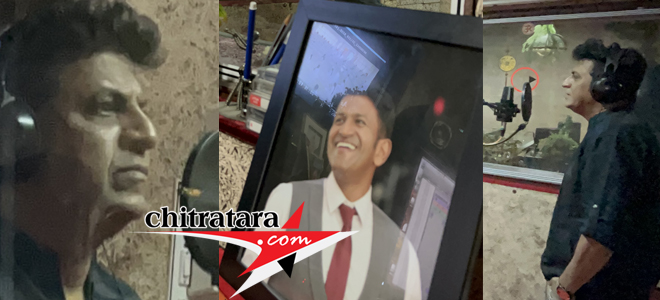 It is a rare development but inevitable. As the spot dialogue delivery of power star Puneeth Rajakumar for his last film `James` did not work out to retain – the elder brother Dr Shivarajakumar with emotions flowing on the one side completed dubbing in two and half days for the portions of his fond sibling APPU.
Director Bahaddur Chetan Kumar and producer Kishor Pathikonda have tried the latest technology to make use of the voice of power star Puneeth Rajakumar. The results were not convincing. They had to convince Dr Shivarajakumar for dubbing to the portions of his brother.
As of now, JAMES has all three sons of Dr Rajakumar in the cast. Shivanna speaking after completing dubbing disclosed it was very difficult to match the voice. I accepted because of an appeal made. The additional difficulty was looking at APPU and giving the lines in my voice. I can only say that I have made an attempt Dr Shivarajakumar with emotions described.
Recently the poster of James with the caption 'Salaam Soldier, Deshakke Neene Power' gathered good attention. 'James' is releasing in five languages – Kannada, Telugu, Tamil, Hindi and Malayalam languages according to producer Kishor Pathikonda.
Director of super hit films Bahaddur, Bharjari, Bharate Chetan Kumar is bringing in Priya Anand as female lead. Rangayana Raghu, Sarath Kumar, Nayana, Hamsa Pratap, Kavya Shastri, Sameeksha, Harsha, Shine Shetty, Srikanth, Anu Mukherjee and others.
James produced by Kishore Pathikonda has story, screenplay, dialogue from director ChethanKumar, Swamy J Gowda is cinematographer, Deepu S Kumar is editor, Charan Raj composer of music.