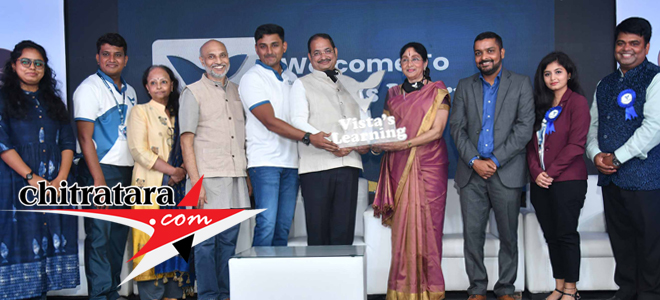 The noted actress and wife of icon Dr Vishnuvardhana – Dr Bharathi Padmasri award winner is the ambassador for VISTA`S learning application for children. Arjun Samrat heading this team of VISTAS has made the learning for children even easier.
Dr Bharathi Vishnuvardhana declaring the open logo of the new application at Chancery Pavilion Hotel stated that the letter 'V' attracted her in VISTAS. It has a variety of meanings. Dr Vishnu, my husband , had immense interest in education. I could not do a degree in my life as my professional life was so busy. The help made towards education by our family is undisclosed so far. But quite often people used to come home and thank for educational support, recalled Dr Bharathi and said Arjun has made education very easy. I had a few queries regarding this application and he had cleared my doubts. The benefit of this application should ready a wide section she hoped.
Hailing from Chickmagaluru, Arjun Samrat has fixed the price of Rs.99 and Rs.222 for students to reach out to the demands. In 2018 nearly 1800 students benefited.
This is now extended from class 1 to class 12 with animation techniques in Kannada, Telugu and Malayalam languages.
CS Aravind, Ashok Jain, Bhargavi Gopinath present at the media address.