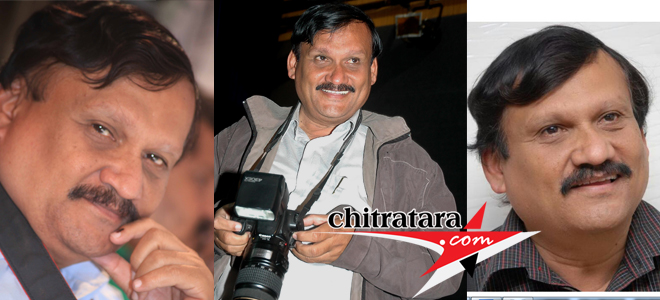 One of the highly knowledgeable and fond cinema photojournalists who spread his wings in other arts and culture, sports and literary field DC Nagesh with over four decades of experience breathed last on Saturday morning – 5th February, 2022. DC Nagesh leaves behind his wife Smt Sudha and daughter Nayana.
DC Nagesh is undoubtedly the darling of the cinema field and through his pictures in the camera introduced innumerable new faces. Sadly, he breathed last on his 66th birthday at his residence in Basavanagudi, Bengaluru.
D C Nagesh`s wide knowledge and his stock building are mesmerizing. A Mechanical engineering graduate from Doddaballapura, a strong pillar of various government related film functions recognized for his maturity, funny moments, practical approach and diligence in work.
It was in the year 1979 DC Nagesh commenced his innings in photography. He was a specialist in portraits and later spread his wings. He worked as cinema photographer for Udayavani group and moved as freelancer to various other publications in his over four decade`s stint.
DC Nagesh travel with another senior journalist BN Subramanya and produced many valuable articles. 'Yeega Hege' in Karmaveera and his association with another senior journalist Ganesh Kasargod for 'Chadurida Chitragalu' brought laurels.
DC Nagesh suffered from cancer related issues. He recouped in the last four years but problems persisted once again in the recent days. Popular senior journalist BN Subramanya inquired on his health on 4 February at his residence and in fact offered him 'Ganji' but next day it was such shocking news.
DC Nagesh introduced toppers like Anushka Shetty in those days clicking her photos at his residence-attached studio. Later Radhika Kumaraswamy, Suman Nagarkar, Srujan Lokesh and various others took his beautiful photography help to climb the ladder of success. DC Nagesh collection of photographs at the Karnataka Chalanachitra Academy 'Belli Hejje' is unforgettable indeed.
Ramesh Aravind remembered the early days of DC Nagesh and said he was himself a 'History'. Suman Nagarkar, an NRI today was in town came with her husband Guruprasad to pay last respects.
KFCC members NM Suresh, Naganna, veteran journalists GS Kumar, Muralidhar Khajane, KM Veeresh, BN Subramanya, Chetan Nadiger, senior PRO Nagendra, Vijayakumar, Nagesh fellow cinema photographers R Manohar, Mokshendra KS, Srivatsa present at 10 am to pay last respects.
The final rite is taking place at Wilson Garden crematorium at 4 pm today.
DC Nagesh we salute you for your abilities, qualities, and substance with right attitudes. Your career is a torchbearer to the coming generation of cinema photography.