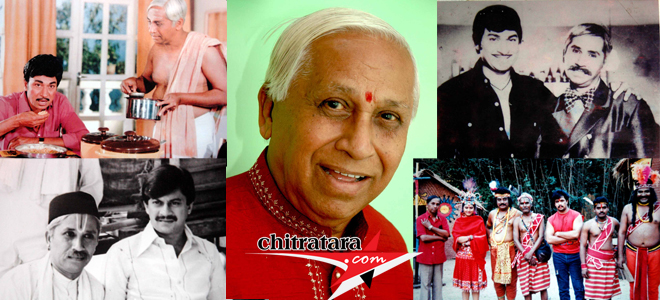 The nonagenarian actor R Ashwath Narayan breathed last on Sunday after a brief illness. Ashwathnarayan as a child acted in Dr Rajakumar father Singanalluru Puttaswamayya theater plays and continued his innings for a long time later in Kannada films.
Ashwathnarayan faced the camera first in a character role in 'Chandavalliya Thota' (As Subba Bhatta) has so far acted in over 200 films. Valmiki, Kulavadhu, Dange Edda Makkalu, Mannina Maga, Thayige Thakka Maga, Babruvahana, Hasida Hebbuli, Malaya Marutha, Bayalu Daari, Professor Huchchoraya, Priti Madu Tamashe Nodu are some of his top films.
Ashwathnarayan was also in theater and television and lead a middle class life throughout his life, after the passing away of Dr Rajakumar the life has become very difficult. I had to live with Rs.1000 pension (Mashasana) given by the government averred Ashwathnarayan recently.
In the year, 2012 Ashwathnarayan received SP Varadaraju award and on the spot urged Ambarish sitting on the dais to recommend him for films so that he would earn his livelihood. At 79 years old, I need only support for work. While living, give me a job after death, do not do anything he said.
Ashwathnarayan suffered mental torture at the family front. On his site his son Udayakumar constructed the house. His daughter Vasundhara and wife started neglecting him. Ashwathnarayan approached the Basaveshwaranagara police for help and filed a complaint on his wife, daughter and son last December.