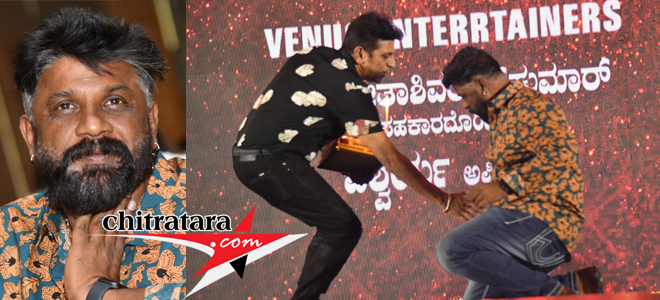 The popular actor and director from 'Salaga' Dhuniya Vijay was in tears at the 50 days celebration at Sheraton Hotel. That is because of his flashback to the making of 'Salaga'.
It was just Rs.40 in pocket when we started the film; I did not know who Srikanth was. We took heavy risk and hard work, discipline brought us to the road of success, recalled Dhuniya Vijay.
I tell you 'Devaraane' I had just 40 rupees in my pocket when KP Srikanth had first round of discussion in a hotel. I went in search of the producer and made an urge. Even today, I have kept those 40 rupees safely at home. I have put a frame for it. Samrat, Keerthi, Mohamammad only knew about it.
I have a lot of work to do. I always need the blessings of Shivanna. KP Srikanth support is necessary. He had given me rebirth. I am ready to work for his banner on any day. I was sinking in life and he gave me a new life Dhuniya Vijay continued his speech.
Turning his attention to his wife Keerthi, Dhuniya Vijay recalled that she was doing pooje for Shivalinga at home. That has made me return to work. With The success of 'Salaga' I dedicate it to my parents and fans. Two years of struggle surpassed Dhuniya Vijay.