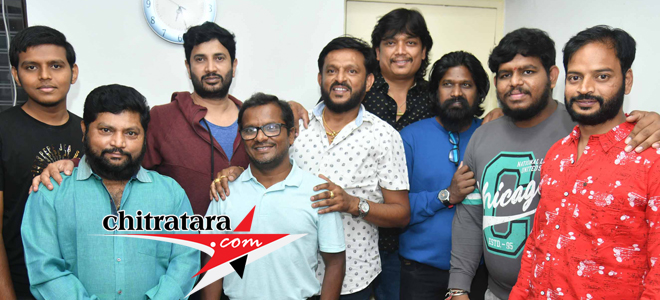 The second film of Mahesh, younger brother of Golden star Ganesh 'Maha Roudram' is set for release on February 11 all over Karnataka. Producer, director and distributor Sunil is something interesting. The audio of the film was released at Renukamba Digital theatre. A trailer screened got wide appreciation.
S A Chinne Gowda as chief guest says there is attraction in the title. Action and other contents are good in the trailer. Hero Mahesh looks well built for the action portions, Producer Sunil grew a beard and it appears he has spent a lot of money. Chinne Gowda remembered Dr Rajakumar days and how the shooting was taking place.
Female lead is Poornima at the audio and trailer release event Shilpa Srinivas, Layendra, Mysuru Ramanand, Anand Audio Anand, BR Keshava, Ba Ma Harish, Girish, cinematographer Suryakanth and others were present.
This is my second film. I was in Namak Haram, in this film how a boy distances his family and friends circle because of his attitudes is discussed in this film.
Director Sunil in his first film said it is 'Ishtapattu Madida cinema'. Corrupt politicians and how they spoil the youths of today is the crux of the film. It is the 90s happening. Bengaluru, Manali Khatmandu, Chickmagaluru was held. Music director from Darjeeling has done a good job. I am also a producer, director, and distributor today.
Layendra said it is not just an action movie. It has sentiments. A real life incident that can happen is shown. Mahesh hero is my family friend. Calling my Maamu he showed courage, without glycerin he cried. Heartily he is a good person patted Layendra.