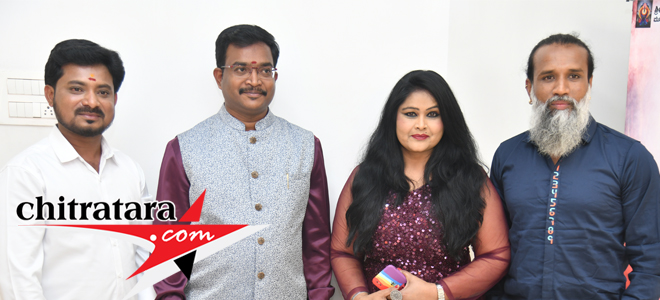 A Kannada film title with a Sanskrit word 'Airaa' is now ready with the teaser that is interesting. A sound before any activity is coined as 'Airaa' says director Raj Udya giving explanation on his title.
The teaser release event held at Kalavidhara Sangha – producer distributor and exhibitor Jack Manju, actor and director Mohan arrived to bless the new team. Suresh Subramanya is producer, Shivu and Meenakshi play son and mother in this film, Kaushik Harsha composed the songs and background while Nagendra is cinematographer for this film 'Airaa'.
Director Raj Uday, speaking on this occasion, recalled that Uday, died in a Masthi Gudi helicopter jump shot at TG Halli lake supposed to act in this film. He is my co brother. Airaa, my dream subject, took it to several producers but it missed out when I told Uday should be the hero, Suresh Subramanya came at the half completion to support this film.
An orphan boy becomes mad, the reason for this is something different. The mother sentiment song is sung by Jogi Prem for this film. For 15 days in Banashankari crematorium and in a temple at Andhrahalli shot for this film, the second schedule of shooting commenced soon. In the environment a sound gives a signal for something happening and that is what struck my mind, says director Raj Uday.
Shivu disclosed that he and Raj Uday took five years to make this mother sentiment subject. We jointly cried several times for not getting the producer. As a mad person in the film I have several get ups, he stated.
Jack Manjunath wished the team to fulfill the dream and appreciated the teaser. He remembered his 'Deadly Soma' on this occasion.
Making the first step is very difficult. The team has already made a success stated actor and director Mohan. I have also waited for eight years to get a director post in the profession he mentioned.
Mother character Meenakshi, Karthik Varnekar, also spoke on this occasion. Cinematographer Vignesh Nagendra said the shooting at real crematorium for the film was a new experience for him, Kaushik Sharma is composing four songs and his brother Chetan wrote the lyrics for this film.