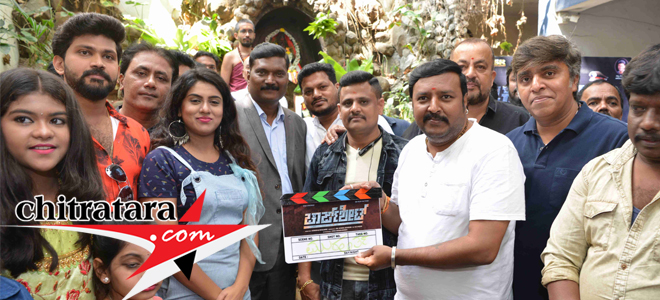 Another English title for a Kannada film! The Charge Sheet is very familiar in the police department. Once the charge sheet is filed, it is difficult to take back. According to some 'Charge sheet' tampering has also happened in police history is a different matter.
This Kannada film 'Charge Sheet' is a murder mystery, suspense thriller crime subject – the muhurt held at Renukamba Digital theater. Dr V Nagendra Prasad famous lyricist, actor, music director and director sounded clap board and stunt director of high reputation Thriller Manju switched on the camera.
Balaji Sharma, Chytra Kottur and Sagar in lead roles of this Gururaj Kulkarni direction. Dr Sunil Kambar is producer and he is the writer of the script besides appearing in the beginning of the film. Producer Sunil Kumbar remembered his work in the media a decade ago and this concept took birth at the lockdown side effect. This film has special narration. The audience would recognize the happenings but the characters would not be aware. West Bengal Umachakraborthi and Chennai SR Rajan are also producers for this film, he said.
Director Gururaj Kulkarni wrote the screenplay for this film. It all starts with the murder of a school girl and the investigation thereafter. Nagendra Urs is a crime story writer on screen in this film, Sanjana Naidu is special CBI officer, I am making use of the talented artists of Uttar Karnataka for this film, he stated.
Balaji Sharma, a photographer by profession who acted in TV serials is a cop in this film. Chytra Kottur is a police inspector and she liked how the investigation is opened layer by layer in this film. Sagar is also a cop in this film.
Thriller Manju, a veteran stunt director is composing two action portions and he has liked the immense interest in the work of the team members already.
Rangaswamy is working behind camera, M Thirtho is composing music, Bala Rajawadi, Mahesh, Shailesh, Sunanda, Girish Jatti, Afzal, Gururaj Hoskote and others are in the cast.