RAVEENA AS PM IN KGF 2 DUBBING DONE
Posted date: 09 Wed, Feb 2022 10:00:17 AM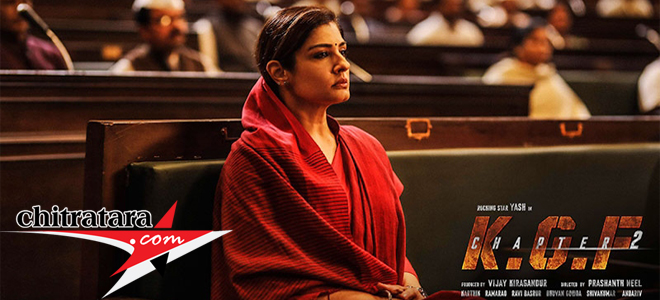 The popular Hindi films actress Raveena Tandon – Masth Mastha Hudugi…for Kannada audience so far returned to a whopping film 'KGF Chapter 2' as Prime Minister.
Termed as Coolest Prime Minister in the film on Tuesday Raveena Tandon completed dubbing for her part of this Pan India film 'KGF 2'.
In a tweet message director of the film Prashanth Neel says Gavel of Brutality! Dubbing completed with the coolest Prime Minister – Than you Mam.
Hombale films on the other hand describes Raveena Tandon role as 'lady who puts the glamour even while announcing a death order'. Our Ramika Sen can stretch her vocal cords to a different dimension. Always fun to work with and always at ease. Get ready for an immersive experience KGF chapter 2 = Hombale Film tweets.
The film KGF 2 is expected to hit the silver screen starring Rocking star Yash, Sanjay Dut and others from Hombale films on April 14.
Kannada Cinema's Latest Wallpapers
Kannada Cinema's Latest Videos
Kannada Movie/Cinema News - RAVEENA AS PM IN KGF 2 DUBBING DONE - Chitratara.com
Copyright 2009 chitratara.com Reproduction is forbidden unless authorized. All rights reserved.