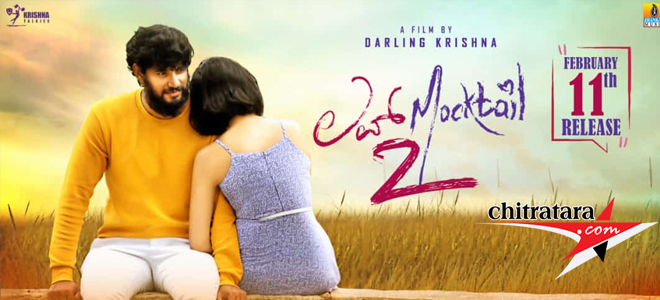 The tremendous success of 'Love Mocktail' by Darling Krishna and wife Milana Nagaraj made them take up 'Love Mocktail 2' and the exceedingly good response for this sequel has now made them go for a big bash.
The mix of different emotions is the highpoint of Darling Krishna direction – he is producer and hero also in this sequel. Apparently the Love Mocktail 2 premiere show ticket in Book My Show has gathered very good attention. It is a paid premiere show in Bengaluru and Mysuru selected theaters. The show is on February 10 at 9.30 pm.
The social media response for the film is stupendous. The film is sure to tickle, bring in emotions and good dialogues besides cinematography and music.
The Love Mocktail 2 songs composed by singer turned music director Nakul Abhayankar gave a big boost to the film. This is visually a different level of film. We had been to Ladak to capture some beautiful locations in Karnataka Chikmagalur, Sakaleshpura, Coorg, Belagavi captured for the proceedings of the film, says Darling Krishna who has produced the film in 'Krishna Talkies'.
Of course, there were many responsibilities and we put our efforts into it. I go on explaining Nidhima memories, there is emotion and humour in the film.
Rachel David, the female lead, says it is a very sweet role. There is Amrutha Iyengar, Rachana Inder, Sushmitha, Shwetha while Abhishek continues his journey in this film.
Sri of Crazy Minds did the cinematography in the sequel too and he is an editor like how he did the first part.