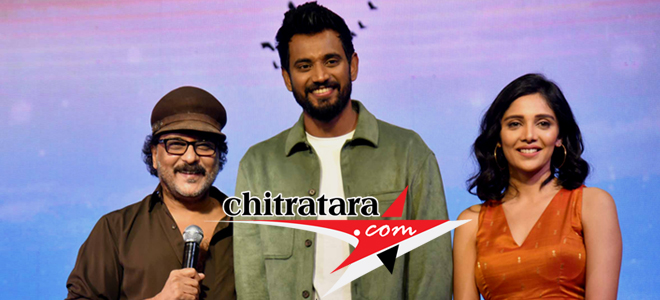 The dream merchant of Kannada cinema Dr Ravichandra V as special guest to the promotion of the film 'Love Mocktail 2' immensely appreciated the loving couple Darling Krishna and Milana Nagaraj at a crowded auditorium on Tuesday evening.
Krishna`s film 'Love Mocktail' became a hit because one lover has done the film for his lover. Such a film should succeed. It had happened. We keep some of the names in the film for characters. Like Nidhi in the film for Milana. She became real 'Nidhi' in real life also for Krishna. It is such a fine coincidence narrated by a crazy star.
Darling Krishna speaking on this occasion went on a flashback. He was depressed when the Love Mocktail one week result was given. I thought of even ending life. At that time Milana came to my mind and took courage to get a good going for the film. It happened slowly remembered Krishna who made this film in 'Krishna Talkies'.
Milana Nagaraj recounting the days of Love Mocktail making said today this sequel has given 40 lakhs views for trailers and songs and I am blessed for the presence of a crazy star. I am in Love Mocktail 2 also but how and why you have to watch it on screen she said.
Sri of Crazy Minds, music director Nakul Abhayankar, actors Milana Nagaraj, Rachel David, Amrutha Iyengar, Rachana Indar, Khushi, Abhishekh, Sushmitha, Giri and others took part in the pre release event.