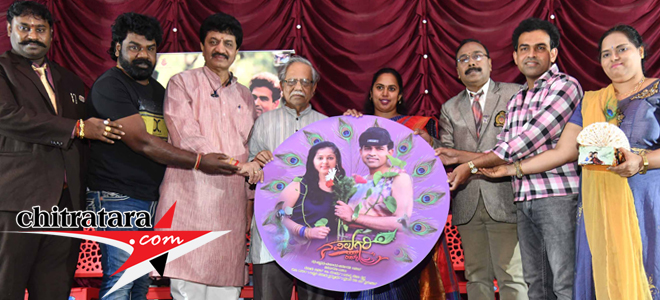 The beautiful title 'Navilugari' is all set to conquer the silver screen. What is the new thing about it? A lawyer by profession with his experience had written script, screenplay, directed the film, produced it and comes before the camera as hero.
That is Anand from 'Navilugiri' Kannada film – it is a suspense thriller film, a murder mystery. Anand particular about music part of the film and contacted Peter Joseph (of 17 Kannada and Tamil films) and on his advice he made a song on rich culture and heritage of Karnataka. That Haarali Kannada Bhavuta….very well penned by Venu Krishna said Anand. At this point of time only the music part of discussion is enough, he opined. The demise of Peter a few years ago in fact is so depressing, mentioned Anand.
The songs and trailer of the film were unveiled by noted writer Padmasri Dr Doddarange Gowda. The learned professor in his long speech compared the art of cinema to 'Garike Hullu' – how it grows despite odds, the growth should be like that in the profession he felt. We are all towards art – Prof Gowda remembered the quotation of TS Eliot, famous English writer.
Politician, actor and producer Ne La Narendra Babu was baffled with the preparation of Anand when he met him. However, the challenge today to get the audience to the theater should be met. The break even is what must happen for this type of Kannada films he felt.
Deepa Nagesh ex councilor of BBMP disclosed that cinema making needs passion. We all should encourage and congratulate any good work. I hope this film has some message for the society she felt.
At the audio launch Dilip, President of World Arya Vaisya Samaja, Srinivas, governor of Arya Vaishya MahaSabha, noted actor in villain roles of over 250 films Kote Prabhakar and Smt Anand present on the dais of 'Navilugari' event.
In Navilugari the protagonist is a singer. He has his own band. One of his band members is murdered. The investigation takes a political turn. The case is shifted to CBI, another murder takes place. How the culprit is detected is the crux of this Sri Vignesh Creations film shot in Bengaluru and Tumakuru.
Anand is paired with Ragini as female lead (not Thuppada Hudugi), Ne La Narendra Babu as CBI officer, Kote Prabhakar as an MLA, Nagendra Urs, RT Rama Devi, Namratha, Bhavya and others are in the cast.
Kumar has done editing, Peter M Joseph is music composer, Malik is dance director, Chandru Bande worked for stunts and Venu Krishna is lyricist for 'Navilugari'.