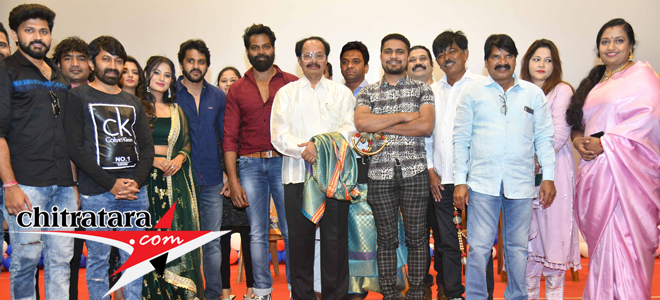 An action packed with a few melodious tunes 'Khadak' Kannada film arrived before the media for the first time. The songs Saddillade ....(very melodious) and the peppy number Bisi Bisi Hudgi Bandlu…screened after the trailer launch at Dr Ambarish Auditorium at Kalavidhana Bhavana on Wednesday morning.
Reputed director of national and international fame Dr Nagathihalli Chandrasekhar, Mari Tiger Vinod Prabhakar, Pratham were guests at the event.
Dr Nagathihalli Chandrasekhar felt very happy for a costume designer of cinema profession Valli turning producer. A technician growing to the level of a producer investing the money where he earned needs good encouragement, he said. Looking at the trailer of this film Nagathihalli stated that he cannot do this kind of cinema and wished good luck to the team.
Valli did not speak but co producer Siddaramaiah Singapore explained the film was made at a lockdown situation and urged for support for the hard work and effort. He wished to see 100 days of the film.
Director of the film Nagesh TN was not present as he had been to Kashi and Varanasi.
Vinod Prabhakar Mari Tiger came to the event of 'Khadak' for his best friend Dharma Keerthiraj. We are like brothers from the time of 'Navagraha' Kannada film. He claims to be 'Tiger' in the film but there is only one 'Tiger' that is 'Tiger Prabhakar' . My father mentioned Vinod Prabhakar. Vinod remembered that it is Darshanji who calls Dharma as 'Cadburry'!
Dharma Keerthiraj thanked for the frank opinion of big brother Vinod Prabhakar. I play a cop in the beginning of the film but later on, it takes a twist in the climax. He thanked director TN Nagesh and Nagathihalli Chandrasekhar for coming to the event. Saddillade…is my favorite song he said.
Anusha Rai, the female lead, thanked the producer for the opportunity and director TN Nagesh prepared us for the shoot in a cool way. Saddillade…song is my favorite too she said.
Music director MN Krupakar recalled his connections with Vinod Prabhakar and others. He said there are four songs in this film. Every film I introduce a new singer and lyricist. For this film Madhwesh as singer and Prathap Reddy as lyricist make their debut, he said.
The stage of Kalavidhara Sangha was crowded with team members of 'Khadak' and well wishers at the audio launch of the film.
Kamal is the new villain from this film 'Khadak'. Veteran actress present on the dais recalled her films with the fathers of Dharma Keerthiraj and Vinod Prabhakar in her career.