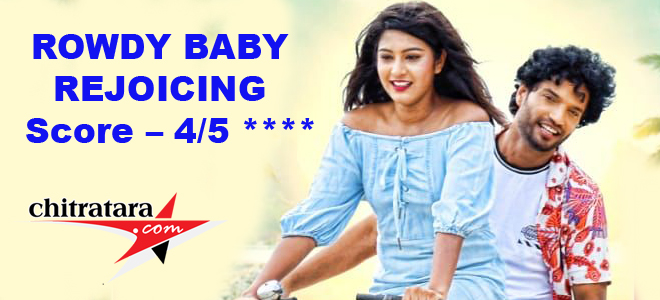 Duration – 113 minutes 23 seconds, Category - Love Story, Score – 4/5
Title – ROWDY BABY, Producer – Raghu Gowda, Direction – Reddy Krishna, Cinematography –S Samrat, Music – Arman Merugu– Cast – Ravi Gowda, Heer Kaur, Divya Suresh, Amith, Kempe Gowda, Aruna Balaraj, Srinath Vasishta and others.
The debutant director P Krishna alias Reddy Krishna has followed the trick of the trade to some extent. He knows the pulse of the youths and worked on his screenplay tightly adding good dialogues and absorbing moments. We have seen many love story films but this one is quite different in narration. This is what just wanted for the audience to sit along in the theaters to watch the film.
The first half is impressive and the second half is absorbing to some extent in `Rowdy Baby`. The lovely locations and a few lovely tunes lift the film that has very good cinematography.
Krish (Ravi Gowda) is on his journey with two friends played by Amith and Kempegowda. The narration of the film also begins in this journey. Krish is liked by Anu (Heer Kaur) but he declines this offer and this results in the engagement being finalized for Anu.
But the bondage of Krish and Pradvi (Divya Suresh) is so strong and it is not possible for Krish to think of anyone in Pradvi`s place. The journey of Krish and Pradvi is very funny, intimate and loyal. In an accident both Krish and Pradvi are seriously injured but Pradvi is declared dead.
Now Krish is in confusion whether to accept Anu as his partner or not. A slight mischief from elders at this point of time plays very important that you have to watch it on the silver screen.
Ravi Gowda is handsome and active on the silver screen. His action, dance, and emotion is competently good but makeup for him is slightly more.
Divya Suresh is lively and promising. She has a great future in this tinsel town. A mature actress, Heer Kaur, is impressive. The comedy track of Amith and Kempe Gowda adds a good boost to the film.
Srinath Vasishta is back after a long time on silver screen and has given a fine performance and so is the very talented Aruna Balaraj.
Two lovely tunes attract the audience. Cinematography is on top gear.