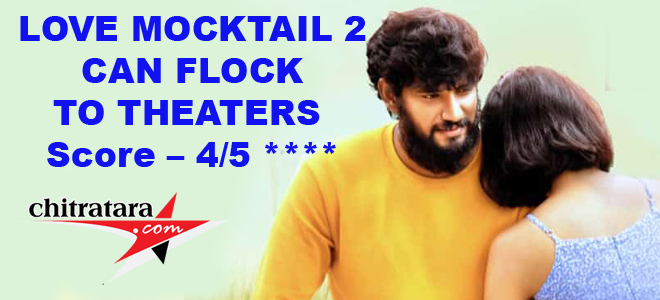 K . S. Vasu
Duration – 140 minutes, Category – Love Story, Score – 4/5
Title – Love Mocktail 2, Producer – Krishna Talkies, Direction – Darling Krishna, Music –Nakul Abhayankar, Cinematography – Sri Crazy Minds, Cast – Darling Krishna, Rachel David, Milana, Amrutha Iyengar, Rachana Inder, Sushmitha, Shwetha while Abhishek and others.
Man proposes, God disposes is the saying. Here in the sequel the demised lover Nidhima proposes for her struggling husband but he disposes!
Love Mocktail 2 is very strong in content narration because the firm mind of the protagonist takes the Eiffel Tower position. After so many influences including that of his demised wife Nidhimma – Adi is very firm in approach. He comes so close to Sihi (Rachel David) and in Madikeri Sihi grandfather a very practical person gives his nod for the two to take up new life. However, Adi`s behavior and his inability to overcome Nidhiamma changes the mindset of Sihi at the last minute.
The hallucination is the problem with Adi. He is given treatment by his best friend Vijay and Sushma. At last Nidhiamma says you will not change in your life for better as the journey of life is yet to complete. All efforts of Nidhiamma also become futile. Adi makes another decision at the end of the film that you have to watch it on screen.
Darling Krishna in continuation has made a good screenplay and directed the film that is very touching in the second half. In acting, Darling Krishna is very good.
Rachel David is a treat to watch, Shwetha speaking the Hubli accent Kannada is quite interesting, Vijay and Sushma pair is engaging.
Two other beauties of this film are cinematography by Sri of Crazy Minds, even his editing is good and compositions of Nakul Abhayankar especially Ninadene Januma and Sanchariyagu Nee…are fantastic and so apt for the film.
Devara Aatavo…Jeevana Patavo….life should go on even after we miss our dearest ones.