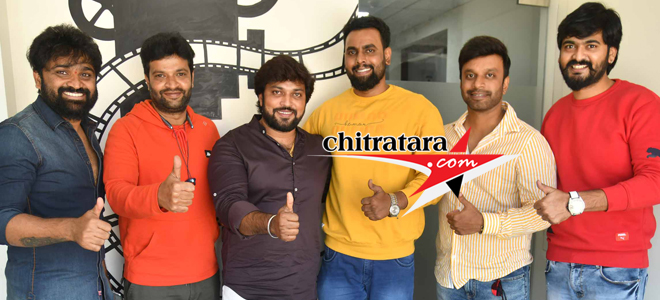 Come April, 2022 the new film by politician AC Venkatesh (gen secretary of Congress) is going on the floors. Venkatesh is not only producer and he is in the prominent role of taming the four youths to his needs to fulfill his political needs in the film 'Rajyabhara' – AC Venkatesh is such an eloquent speaker that he has ability to write dialogues for his portion.
The title launch of `Rajyabhara` with the caption `Fight to Rule`was made by Rajesh Guruji at SRV Theater in Malleswaram Bangalore on Thursday afternoon.
Ravi Teja is Teja from this film and he says four youths in the film like in `Rajadhani` (Yash starring film) are having very good contents. A mistake in youths is wrongly taken and rightly taken is discussed and that impact is passed by former Kanasina Rani Malashri character in a guest role he says. We are also discussing two prominent persons to make a guest appearance for this film and the heroine will be decided soon, says Teja.
It is in a casual chat we discussed on making this stated debut director Karthik. All the incidents the audience would feel as if it is happening in their life. The youths struggle and political twist is part he says. According to him, everyone in life would feel like doing `Rajyabhara` in life in one way or the other. That is our point of narration too, he adds.
Sanath of Kamarottu CheckPost film, Arva, Akshay, Shreyas alias Sonu, Usha Bhandari, Anjali, Tabla Nani, Rangayana Raghu and others are in the cast of this AA Films venture. Manikanth Khadri scores music, KM Prakash is editor for this `Rajyabhara`.