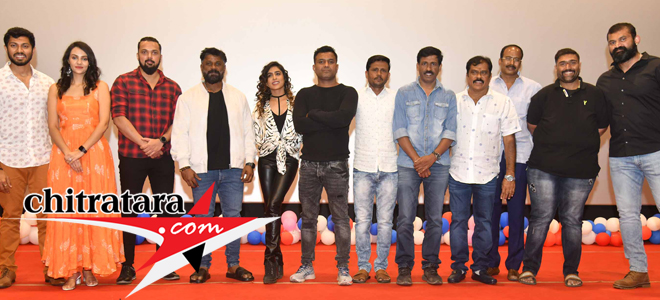 Producer Purushottam Gujjal has every reason to smile. One after the other promotion of his latest Kannada film 'Raana' is gaining good attention.
On the occasion of hero Shreyas Manju father noted producer K Manju birthday at Kalavidhara Sangha, Dr Ambarish Auditorium the joy filled peppy number that brings in 18 districts names of Karnataka written by Shivu Beragi – Malli Malli… with super dancing from talented actress Samyuktha Hegde and hero Shreyas Manju with others gathered too good momentum.
For the first time Kirik Party and College Kumara heroine Samyuktha Hegde appeared for an item number and the eye catch tune from Pop star Chandan Shetty, cinematography from Shekhar Chandra, lovely dancing steps from Imran Sardaria, absorbing sets from art director Shivu are high points of this film song.
Salaga Dhuniya Vijay cancelled his Hyderabad flight and made it to the song release event and thoroughly enjoyed the song quality in all respects. Vijay appreciated the dedication of Shreyas Manju and said a talented actress Samyuktha Hegde did superb dance. Both are very flexible. Director of this film Nandakishor is very honest in his work and cinematographer Shekar Chandra is highly talented. I always feel happy to see the new actors Dhuniya Vijay said, looking at the new villain who is very tall and strongly built.
Shreyas Manju in his third film but only one got released thanked Dhuniya Vijay for his affection to make it to the function. Shreyas Manju well prepared what to say stating that we all should love our artists and technicians. In my third film I am coming to know my mistakes and a sort of maturity is getting in, he said. My only aim is to make my parents proud said Shreyas Manju.
K Manju of forty plus films as producer told his age as 56 when Dhuniya Vijay insisted. K Manju says he is a fan and admirer of Dr Vishnuvardhana and his son should follow the footsteps of power star Puneeth Rajakumar. Do not keep your earnings – Do Dhaana and Dharma like Appu did. Besides that he should always obey the producer and directors, added K Manju.
Samyuktha Hegde looking gorgeous in the song and fit in her physique in her appearance said dance has been her hobby from childhood.
The producer of the film Purushottam Gujjal said the backbone for this film song is Imran Sardaria, Shreyas Manju put a month of effort for this song and appreciated art director Shivu and lyricist Shivu Beragi.
Shivu Beragi lyricist of prime importance today said he wanted at least 18 to 20 district names in the song that was supported by director Nandakishor.
Director Nandakishor, female lead Ranjani, Deepak (brother of Umapathy Srinivas Gowda) and others were present on this occasion.
The making video of the song and AV on K Manju was also part of the song release event.