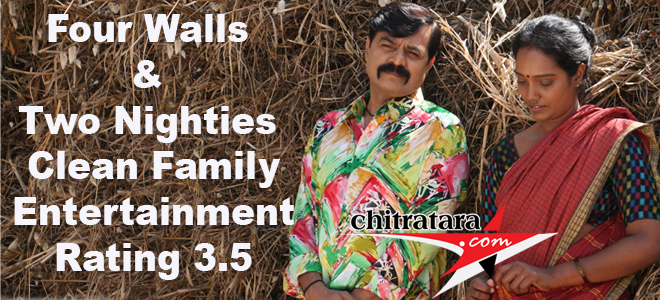 Rating: 3.5 Direction: S. S. Sajjan Producer: T.Vishwanath Naik Music: Ananda Rajyavikrama Photography: Devendra Reddy Cast: Achyuth Kumar, Dattanna, Sujay Shastri, Dr. Pavithra, Dr. Janhavi, Shreya Shetty, Anchal, Rachna Dasarat, Bhaskar Ninasam and others
While a majority of movies in recent times are heavily loaded with action thrillers, drama, comedy and romance, Four Walls comes as a relief to the audience who have been long waiting for a clean family entertainment which focuses on relationships - husband & wife, parents & children, between friends and mainly revolve around harsh realities of life.
As the title suggests - the story revolves with the four walls which denotes a family drama, wherein the head of the family goes through many ups and downs in striking a balance in his personal life with that of his family members. The circumstances here are of complex and sensitive nature. Will the protagonist be able to handle it better or not is the crux of the tale.
The movie opens to the flashback after government employee Shankara played by Achyuth Kumar decides to consume alcohol for the first time along with his colleague, who works as a peon in the same office.
As the audience is introduced to the younger Shankara, his upbringing by his uncle played by Dattanna and how he attains a government job to falling in love with a girl in his neighbourhood is showcased to perfection.
The real essence of `Four Walls and Two Nighties` starts to unravel after he manages to marry his love with the consent of his uncle. The next stage is that of the desire to have a son but his first three kids turn out to be daughters and finally his fourth one is the son but at the cost of wife who dies during the delivery.
A story webbed around the harsh realities of life with the mentality or definition of perfect life according to many is the focal point. As Shankara grows older, he faces more challenges with it. Three unmarried daughters and a son who is struggling to get a job are now at the new stage of `Four Walls… `.
With a twist in the tale when faced with his irresponsibilities and a rebellious son, the movie has enough space for a meaningful drama to not be ignored. The making part is quite decent but it is the `story` and performances which makes it a better watch.