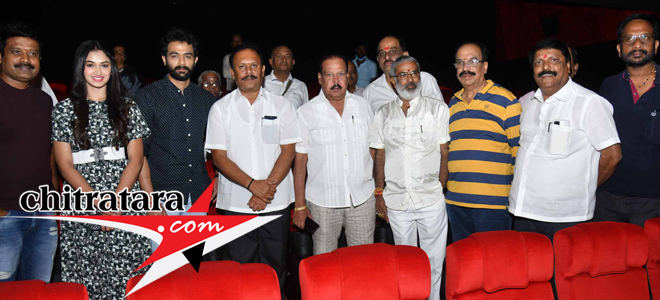 One of the senior most Kannada film industry personalities spread out in production and exhibition Narasimhalu is brimming with happiness for the sprucing up of his two theaters Vaishnavi and Vybhav theaters situated in Uttarahalli locality of Bengaluru.
Topnotch director Jogi Prem formally inaugurated the new lift given to the theaters on Saturday and KFCC members were present at the event.
Jogi Prem disclosed that the sound system at VV is excellent. I saw the songs of my film 'Ek Love Ya' at the theaters. I wish tremendous luck for Narasimhalu, he said.
In the last 15 years we have spruced up our theaters thrice and incorporated changes demanded by the situations. The quality of viewing the film will be extremely good, says Narasimhalu. We have not hiked the ticket prices. 465 is sitting capacity with good seats, sounds, and canteen facility is provided. Proper usage of single theater is our goal, says son of Narasimhalu Mr Kishor.
Former KFCC President Sa Ra Govindu, exhibitor sector President KV Chandrasekhar, KFCC secretary NM Suresh, distributor Basha, famous director Naganna, Ek Love Ya hero Raana, family members of Narasimhalu were present at this theater renovation event.