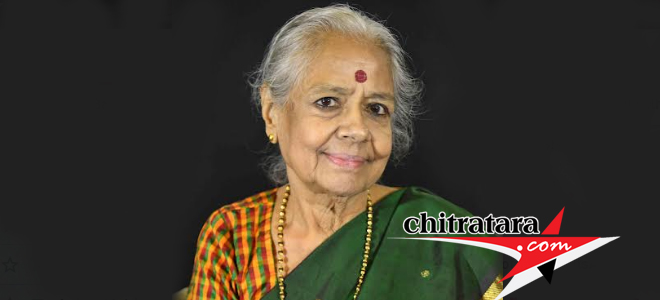 A commendable natural actress on stage, cinema and television Bhargavi Narayan husband of Make up Naani passed away on 14th of February 2022 – on 4th of February this 1938 born celebrated her 84th birthday and after 10 days she passed away.
Bhargavi Narayan acted on stage in over 600 plays, hundreds of television episodes and very selected films. Married to Belavadi Nanjundaiah Narayan alias Makeup Naani, Bhargavi Narayan is mother of renowned actors Prakash Belawadi and Sudha Belawadi – Sujatha is Yoga exponent and Pradeep specialist in backstage is an engineer like Prakash Belawadi are other two children of Bhargavi Narayan. Her grandchildren such as Samyuktha and Teju are also in the art field.
It is Samyuktha Horanad in a tweet message sharing Bhargavi Narayan her grandmother said 'Ajji Bhajji…has passed at 7.30 pm.
Bhargavi Narayan popular Kannada films are Eradu Kanasu, Hantakana Sanchu, Pallavi Anupallavi, Baa Nalle Madhuchandrake, Idolle Ramayana, Manthana, Muktha are TV serials among others. spent more than six decades in Kannada theatre and cinema. She has acted in 600 plays.
Naa Kanda Nammavaru of Bhargavi Narayan autobiography released in 2012, member of Kannada Nataka Academy she had written and directed AIR women program. Bhargavi Narayan won Karnataka State Sahitya Academy winner among others.
Bhargavi Narayan graduated in BSc from Maharani`s College after schooling in Acharya Patashala and PU in Vijaya College; she did MA in English privately. Like theater it is reading books envied by Bhargavi Narayan.
When Makeup Naani passed away on 4th December 2003 – He was 75 and his body was donated to St John`s Hospital