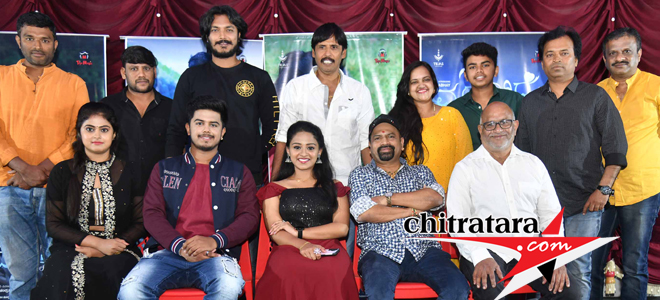 The new Kannada film 'Manasagide' with the caption Some Love Stories live forever is ready to hit the silver screen on 25th February 2022 all over Karnataka.
At the teaser launch and a song preview on the occasion of Valentine Day the team headed by producer Chandrasekhar and director Srinivas Shidlaghatta met the media at Renukamba Digital theater.
Chandrasekhar as producer introduces his son Abhay as hero and second son Thejas has also acted in this film. Noted actor Sriki released the teaser and appreciated the confidence of the team.
Producer Chandrasekhar, story writer of this film is very happy because of the good progress made by the film so far – it is not just action or love but very good sentiment is packed with suspense, he says.
Manasa Holla daughter of Shankhanada Aravind and singer Rama composed the songs and background score for the film. I have used the young singers for this film she mentioned. Teju Music video songs are available.
Director Srinivas Shidlaghatta with over 20 years of experience said the team is sure of winning. The untold love story is a surprising factor, he says.
Veteran of over 500 films as stunt director Thriller Manju graced the teaser launch and said he utilized the strength in Abhay for action composition. I am not expensive, I am always a producer and director friendly technician he adds.
The debut hero Abhay says after watching the first copy he got some courage. Meghasri, a talented actress, says the mindset of everyone in this film is too good and speed of work is impressive and this my career fastest made film she added. Athira is the lead heroine thanks to the extended opportunity.
Palani D Senapathi sound record technician with vast experience appreciated the top quality rendered by music director Manasa Holla and he is seeing something refreshing from this film 'Manasaagide'.
Cinematographer Shanker attended the teaser launch and lauded the producer for his good work.