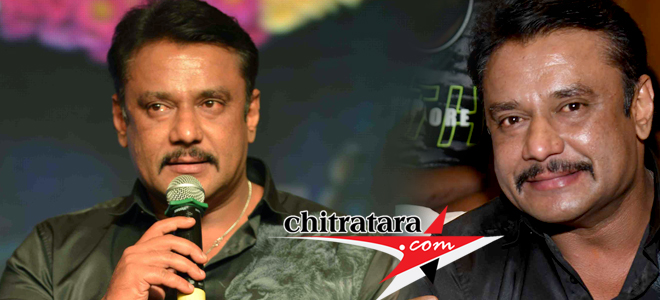 At the peak of popularity today and massive fan following challenging star Darshan was so humble and simple recollecting his 'Majestic' days at the 20 years celebration of the film.
Addressing the media at 'Majestic' get together party Darshan described that he still keeps the 'plate' he had eaten at the start of this film. PN Sathya had given me that strength. Anaji phoned and asked me to meet Sathya at room No. 207 of Prajwal Hotel - that is the beginning. He asked me to come in the evening = there was Ramesh, Rammurthy, Nandi, kallu Maama, Bhojanna – Ae he is our hero said Ramesh – he is also one of the producers of 'Majestic'.
Luckiest heroine for me is Rekha. She was already established. Thangali Mele ….song thirty to 40 takes I had taken but she did not get disappointed. She is very lucky for me. For Ramesh Pandit I hit the tube light = there was a big mark. He suffered. I ask for an apology even today. Harish Rai stood as a big supporter. We have a good friendship. Vanitha Vasu gave guidance for me. Jai Jagadish, Anaji Nagaraj I should thank, I was first assistant to Anaji Nagaraj and later camera assistant to BC Gowrishanker – Darshan went on a recollecting two decades journey.
Now it is re-releasing, Sadhu and son Surag, DI and DTS have been done for the film. Until August I do not have any film – this is also a celebration for my birthday also. Tarun also came forward for help with the 'Majestic're release.
Overall it is not a small journey. In Rs.39 lakhs Majestic was made, today artist payment is not enough. Producers did not have any 'Gandha Gaali' about the film. Even one-day films did not stop. PN Sathya made one high end and low end in character. Muddu Manase Peddu Manase…song Sadhu Kokila convinced everyone for me. It was done in one day. Thangali….song only took two days to shoot.
My family, son, wife, mother, brother and family 'Chiraruni' – Ramesh and Ramamurthy have only authority to say anything. This shield will be always on top priority, he concluded his speech.