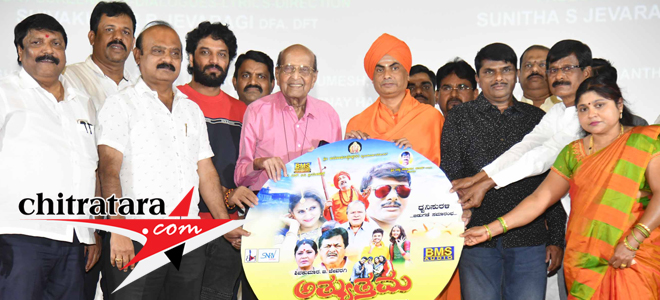 In the presence of Sri Shivaganga Swamiji, reputed director SK Bhagwan, KFCC members, well wishers and family of director Shivakumar Jewargi the well thought out film 'Athyuththama' Kannada film trailer and songs were screened at Sri Chamundesware Studio on Tuesday evening.
It is a nearly 40 minutes presentation of the film contents and the next forty minutes is the explanation from writer, director, producer, hero Shivakumar Jewargi about the film.
On this well attended evening, Shivakumar Jewargi was crowned 'Classic Star' by his fans. Shivakumar explaining the contents said it is a universal subject. A working family concept where a husband and wife enters into a clash and that goes to the extent of divorce.
After divorce, the son and daughter toppers in their studies turn very tragic in their life. The mindset is affected and serious complications in the children make the divorce parents to reunite in life.
How the parents reunite for the sake of the well being of their children is the crux of the matter in this 'Athtyththama' Kannada cinema. Shivakumar Jewargi says for the country this kind of film is essential and he thanked his wife Smt Sunitha Jewargi for showing confidence and investing in the film.
Minesh Kumar songs are available in Youtube channels. Dance director Kapil has been very helpful for me in production and arranging activities, said Jewargi. 70 percent of artists are veterans while 30 percent are newcomers for this film he adds.
Geetha Adiga is the female lead for Shivakumar Jewargi in the film. Friends have helped me in making this film recalled Jewargi. In thirty days we have done 90 days shooting and for that entire team cooperation is responsible, he says.