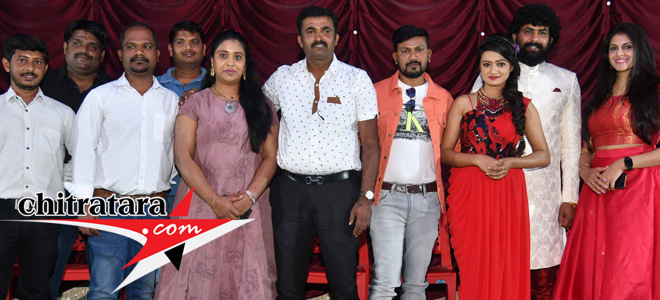 Another strong film in contents – a periodic cinema 'Agrasena' comes up with a lovely song on 14th February – Dasara Bombe…song well sung and composed is no doubt a treat to watch.
This song Dasara Bombe…Manasu Jaride Hinde Hinde….Helade Kelade Preethi Huttide…..by Vijayaprakash has gained good attention already in the social media. Thaayi Mamate Needuvenu….Thande ante Kaayuvene….is lovely from the pen of writer Bahaddur Chetan Kumar.MS Thyagaraj composed the music that is too haunting indeed. The song got released in Anand Audio music you tube.
Amar Viraj and Rachana Dasharath start in this Vaishnavi Cinemas 'Agrasena' produced by Mamtha Jayaram Reddy for Murugesh Kannappa film. A former customs officer, building contractor and BJP politician Jayaram Reddy sitting next to his wife Mamata said it is her wish to make a film and on this day I promise her to invest on a web series production he said with lot of enthusiasm.
Hethwik Krishna Raj, Bharathi Hegde, Ugram Manju, Ramakrishna are also in the cast of this film. veteran actor Ramakrishna plays a vital role in this periodic cinema.
Debutant director with vast experience as associate and assistant director Murugesh Kannappa has tried a commercial experiment cinema. Shot for the film in Belagavi, Kolara and Mandya district. MS Thyagaraj has done five compositions for this film. After a long gap famous music director and singer RP Patnayak sings a song for this film.
Amar son of a farmer waited for five years with the team for this film to happen. Rachana Dasharath prefers to get a tag as 'Dasara Bombe…from this song via 'Agrasena'. Bharathi Hegde is in village track, Hethwik Krishnaraj is in periodic backdrop role.
Ram Reddy handled cinematography for 'Agrasena'.