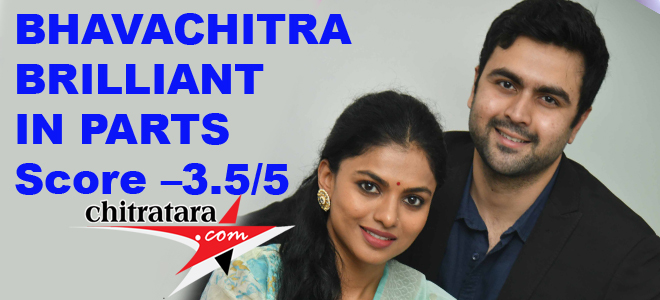 Duration – 146.05, Category – Love cum Revenge, Score – 3.5/5
Title – Bhavachitra, Producers – Woodcreepers, Direction – Girish Kumar B, Music – Gautham Srivatsav, Cinematography – Ajay Kumar, Cast – Chaktavarthy Reddy, Ganavi Lakshman, Girish B,Avinash, Karthi Soundaram, Pooja Bharate, Girish Bijjal and Girish Kumar L (Bujji) and others.
One photo describes one thousand words is the old saying. Here in Bhavachitra one photo followed by a couple photo describes the entire second half of the film.
Director Girish Kumar in his protracted style of narration has his elements in right places, remained loyal, taken good acting from all characters. The confusions he creates in the minds of audience get good replies. BHAVACHITRA is no doubt brilliant in music, cinematography and other technical aspects but the editor in director was much-needed factor.
A cool and handsome person Vishnu (Chakravarthy Reddy) pursuing his hobby photography finds a dashing encounter on his camera. So far, a candid photographer is in shock. When he clicks, he finds a couple Shankara and Chitra. It is with this Chitra he conversed, moved around and at the edge of marriage.
In post interval, he goes on a hunt and discovers surprising factors. In comes a deadly gang of Hole Dhande Shambu and Shankara friend. All connect to the 1640 Sri Ranganatha idol. So the past unravel on screen and comes to present, this portion is the well driven aspect in the film that you have to watch it on silver screen.
Chakravarthy as protagonist has given a sensible performance. For Ganavi Lakshman, Magalu Janaki fame it is not that challenging role. Director in the role of Shankata has done justice.
The first highpoint of this film is musical compositions from Gautham Srivatsav. All set to the background gives extra mileage for the film. Doora Doora…..Anvasi Ade Nannu Nanna Ooralli….Jeevakke Jeeva Kodo Dosthi….Yaaro Neenu Chowkidhara…are very well composed, sung and lyrical value extremely good.
The drone shots, close ups and wide angle are mesmerizing.
This is not an ordinary film but misses the extraordinary tag narrowly.