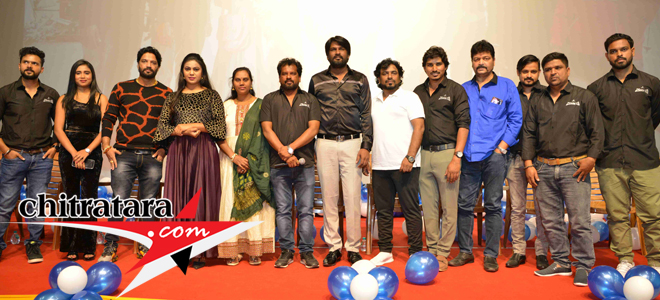 The new Kannada film 'Mardhini' in the production of Bharathi Jaggi and directed by Kiran Kumar V is ready to hit the silver screen in the month of March 2022. The team intends to release this woman-oriented film of a lady cop played by Rithanya Hoovanna on World Women`s Day on March 8 but it is March 4 or 11 that falls on Friday. The film trailer was announced by producer Jagadish mother Smt Gurulingamma at Dr Ambarish auditorium on Saturday evening.
The wishes of Kichcha Sudeep and cop Anitha Lakshmi screened on this occasion. Kichcha Sudeeppa knows Jagadish for a long time and he is happy for his growth today as producer.
The No1 'Standies' maker is Jagadish in the field. For the last 18 years thanked Kichcha Sudeepa for backing him. Jagadish wanted to identify the new talent and a painter too remembered Sajid Quereshi (producer of Nagarahavu updated version) agreed to the point that it is difficult to make a film with an established hero. There are many new talents missing opportunities – I am looking at it, he adds.
Director of Devrantha Manushya Kiran Kumar V remembered the growth and finishing of the project. He remembered the three phases of difficulties due to Corona for this film. Ritanya Hoovanna, Akshay,Manmohan Rai, Inchara, Rachana and dog Husky are part of this film. The film is based on one real life incident in the past of an action suspense thriller with murder mystery he says.
Hitan Haasan has done the background score and composed one song for this film highlighting the essence of this film. Hrudayada Looti…song sung by Varun Ramachandra is too good.
Editor NM Vishwa with affection for the team took 45 days to complete his task. The new actor in this film Manohar will be a terrific actor for Kannada cinema industry he felt. The confused style of narration is an interesting watch, he adds.
Actor Manohar says this is his big step in film career. Akshay, writer of story and actor , spoke at length, getting emotional. He explained that meeting the police officers gave extra value to the investigation aspect of the film. Man Mohan Rai remembered the heckling time while shooting for his portion.
Ritanya Hoovanna debut film is a cop 'Mardhini' in this film. At the fitness center producer, Jagadish noticed her. She got in to kick practice and attended workshops. Modeling to acting this has been a big leap, she says.
Yogesh executive producer, actor Ravi Gowdam Naveen Gowda of Sudeepa fans association were present as guests on the dais.