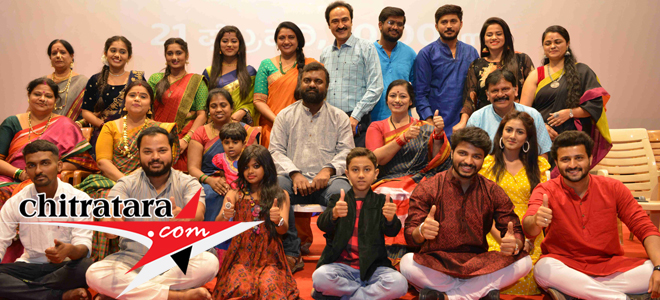 Another joyful, meaningful, well thought out mega television serial 'Jenugoodu' on air in very popular Star Suvarna from February 21 2022 at 10 pm!
The high point of this remake mega serial is the joint family system and in every frame, at least 15 characters appear. The micro system of living today in society has an eye opener and in addition to it the beauty of the Uttar Kannada accent of Kannada is maintained throughout the 'Jenugoodu' television serial.
On Saturday morning at Dr Ambarish Auditorium of Kalavidhara Sangha the team of 'Jenugoodu' screened the different promos and the first episode of 'Jenugoodu' for the media after a brief condolence to the passing away of Kalatapasvi Rajesh and power star Puneeth Rajakumar.
Director Anil explained the challenge in front of him in making this 'Bengali' TV serial 'Khorkuto' and it was successfully adapted in all major languages such as Malayalam, Hindi, Marathi and Tamil. We have obtained permission from Nadabrahma Hamsalekha (Jenina Goodu Navella…is the song from multi star cast 'Habba' Kannada film sung by Rajesh Krishnan and KS Chitra) for utilizing the 'Jenugoodu' title song he adds and the array of artists sitting on the dais explained the experience of shooting so far. With six episodes ready to go on air, director Anil and team are sure of making 'Jenugoodu' a big success in Kannada language also. Besides the entertainment factor there is good connectivity to every family, hopes director Anil.
Noted actress Veena Sundar worked for 'Sarasu' of the same channel and said Uttar Kannada diction is the new challenge for her. In fact I liked another role of this mega serial but after doing a few days of work I realized the importance of the role offered to me she stated. Joint family means 'Sambrama' – I hope the audience would enjoy the joy of 'Jenugoodu' she opined.
Another senior actor Ravi Bhat explained there are some families with nearly 100 plus living in one roof. The advantage of joint family is something unexplainable he says.
Srikanth Heblikar also expressed the joy of working with the team and Malathi Sardeshpande, fully aware of the Uttar Kannada culture and art, felt unhappy for missing the main role for her preoccupation.
JENUGOODU briefly is about a love story about a young woman who falls in love with her husband first and then her husband, this is the story of a sophisticated girl who crosses paths with a scholar from a middle class joint family, and everything changes.
Despite their different personalities and varying interests, the three brothers in
The Nadukote family remains united. This family is supportive of each other, and they are an illustration to the definition of a happy joint family. Shashank (Hero), the son of the second brother, is a scientist selected to conduct research in the USA, but he cannot because of family obligations.
In contrast, Diya (Heroine), daughter of Dr. Sridhar Murthy, a famous surgeon, has never known the bonding of a family, as her mother abandoned her for the sake of her career and moved to the USA.Diya was brought up by her father's sister, Sarika, who also separated from her husband and lives with her brother now.
Diya and Shashank are always in conflict and hate each other while their families
are determined to marry them off. It is under circumstances for Diya and Shashank to be married forcibly.
During the course of the story, Diya creates a contract under which she should be freed if she passes an exam that she is appearing for. Her family finds this out and wants her to fail. However, Shashank wants her to pass, as he also wants to be freed of her. However, the two fall in love during this process.
Rekha KB has taken on responsibility as producer of this series. Arav and Nitya are playing the main character in the role of Shashank and Diya. Great star cast like Veena Sundar, Ramesh Pandit, Ravi Bhat, Srikanth Heblikarand artists from north Karnataka who will give great experience of North Karnataka culture, style and language. This is going to be complete north Karnataka meals for our audience. This extremely loving family is all set to meet its audience from 21st of Feb 10pm only in Star
Suvarna.