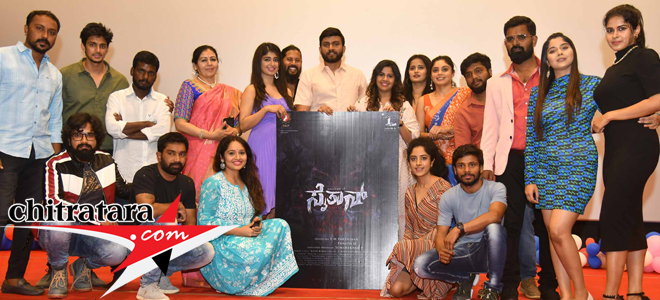 The director of 'Mummy' and 'Devaki' Kannada films Lohith in association with Parthibhan is making 'Saitaan' with top ranking anchor Anushri playing the lead role in it.
The title was announced and a media meet followed at Kalavidhara Bhavana Dr Ambarish auditorium. Actors Bhavana Rao, Aditi Prabhudeva, social servant Mamata Devaraj, Yuvaraj, dialogue writer Masthi graced the title launch event.
Prabhakar is the new director for this film and he was an assistant in the Lohith camp.
Talented actor Aditi Prabhudeva speaking on the occasion said she watched the 'Mummy' film of director Lohith. For his age, he had given quality films. This film title is also creating buzz already.
Bhavana Rao recalled her beginning of the career from Gaalipata and around that time Anushri also commenced as an actor. Later she shined as anchor. I wish the team good luck said Bhavana Rao.
SMP Production Lohith H Production banner producers are Parthibhan and Puneeth producing this film officially. Prabhakar, my colleague, is making debut as a director. The first schedule of shooting completed and month end moving to Goa for second schedule mentioned producer Lohith.
Anushri recalled that it is dance director Imran Sardaria root cause of her coming to films. He introduced Lohith to me. I told that I am quite happy with small screening and doing anchor jobs. Hearing the story on Imran Sardaria`s compulsion, I could not say no. This is my re entry after 'Uppu Huli Khaara' – story is the important aspect in this film and does not run on hero or heroine pattern stated by talented anchor Anushri.
Gautham BN, Kruthi, Aishwarya Sindogi, Sarika Rao, Bhargava Venkatesh, Grishma Sridhar, Harsha and others shared the experience with the team of 'Saitaan'.