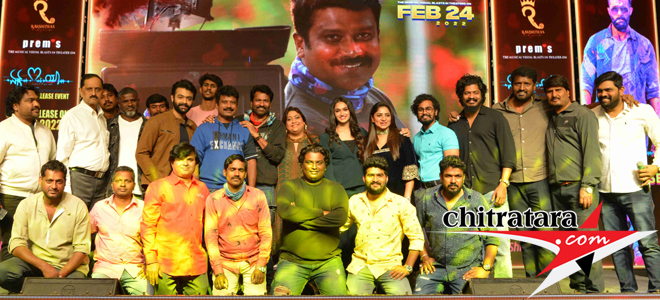 The highly anticipated Kannada film of the year 2022 first quarter is Jogi Prem 'Ek Love Ya' – the celebration and joy of release is on a much higher scale. In fact the RRRR of Jogi Prem Kannada cinema is hitting over 150 screens on February 24, 2022.
Rakshita Prem is producer, her brother Raana (original name Abhishekh) is protagonist, the most sought after Rachita Ram is in pivotal role, Rishma Nanaiah adding one more R to the film is the female protagonist. This is undoubtedly with 'Mother Mamata Rao' aashirvaad says the pride of Kannada filmdom Rakshita Prem.
For RAANA, RISHMA, RAKSHITA AND RACHITA RAM treat get into the theaters for a definite paisa vasool cinema 'Ek Love Ya'.
After 'The Villain' Jogi Prem 'Ek Love Ya' is hitting silver screen and the songs from Arjun Janya have given major lift to the film and the massive response from trailers is an additional boost for the film to gather in the theatrical collections.
The lavish pre launch event was held for the film 'Ek Love Ya' at Taj Vivanta in Yeshwanthpur to highlight the film`s strength. The quality of songs in Prem film is always on top gear. In this film too, Arjun Janya has given his best tunes and the songs have the major strength to make the film successful, admitted Jogi Prem on this occasion.
Among all songs of Arjun Janya – Meet Madona…Illa Date Madana….is on top of popularity. Vijay Ishwar is lyricist for this song. Aishwarya Rangarajan lent her melodious voice for this song. This song was initially rejected but Prem was very particular for this song to be included in the film. Music is going to give very good treatment and the sound is too good. The members who joined our team worked for passion and not for Paisa - music director Arjun Janya and cinematographer Mahendra Simha are pillars of this film stated Jogi Prem. Charan Raj, a veteran actor, gave an energetic performance and I have been his fan for a long time, added Prem.
Rakshita Prem who does every bit of work with affection, love and dedication recalled three years ago decided to make my brother a hero. It was a sudden thought and the journey started. We are coming on Thursday 24th of February 2022. With joy, the team members stepped for the song on the stage.
Charan Raj explained that he did not think he would act in this film. Dashavara Chandru came with the discussion. I had a little anger towards Jogi Prem because had not invited me so far for his films. Finally, I was on board with Jogi Prem even after shooting for 24 hours, always smiling. I think cinema is in his blood. Raana does not seem like a newcomer. He has acted so well and complemented Charan Raj.
As a hero Raana in his debut in 'Ek Love Ya' thanked for the support and the preparation helped me in gaining good experience. I got an offer of this film on 'April 1' and mentioned the beautiful looking Rishma Nanaiah. I thought someone is fooling me but on coming to know it is true I was extremely excited to be part of this film. I attended a workshop before facing the camera said Rishma.