Posted date: 23 Wed, Feb 2022 04:12:24 PM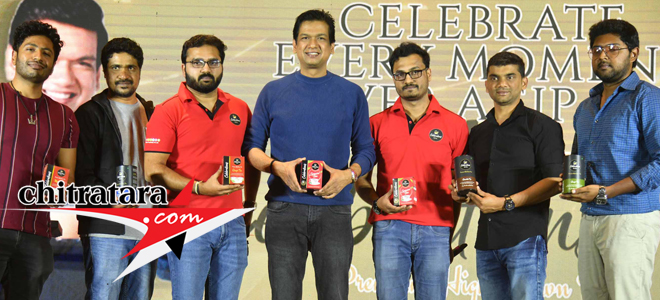 The most talented and humble playback singer with great authority in Hindustani and Karnatik Classical Vijaya Prakash is undoubtedly the household name.
Every song of Vijay Prakash has a celebration and joyful quality. Who can be better than VP for the 'Celebration Tea' to pick as ambassador? This is exactly what siblings Pawan Prakash and Chandan Prakash have done. On the birthday of Vijay Prakash – 21st of February 2022 at Radisson Blue (Atria) the celebration was held in the presence of the media.
Siblings Chandan Prakash and Pawan Prakash of 'Celebration Tea' thanked Vijayaprakash immensely for accepting as brand ambassador. The birth of the establishment of this software engineer duo and growth so far came up in the speech. The CTC natural tea with combination of leaves from Assam and Nilgiris is for the first time – color and flavor blended in the product that has 10 grams to 250 KG bags.
The Celebration Tea, a product of Feligos Hospitality, intends to reach Andhra Pradesh and Telengana with seven flavors and in Karnataka, the market spreads to 18 districts. The make in India policy and giving employment to as many as people is the motto of Celebration Tea. Growth is the goal. The coffee powder and food products in the list of The Celebration Tea company for forthcoming days!
Vijay Prakash as brand ambassador knowing the struggles of siblings Chandan and Pawan went on a flashback remembering his days of struggle in Mumbai in initial days. I like the values and honesty of siblings so I am here. I have used the product to appear for the advertisement shooting. It is good. I am a coffee lover but liked this Celebration Tea. I continue to use the Tea in the house as long as the product is sent to me, stated VP.
On birthday for the first time pride of Karnataka, VP sang a few songs on the choices made by the media persons. Later his mother and wife joined stage for the cake cutting celebration. Vijay Prakash for the advertisement of his for the first time suggested the word 'Sambramiso' – it was precisely so for the product.
Vikram Yoganand directed Vijay Prakash for the Celebration Tea advertisement. Nivedhan of Areca Tea proprietor presents to bless the Celebration Tea goals.
The distributors and key persons supplying raw materials received trophies and bouquets. The advertisement featuring Vijay Prakash for The Celebration Tea and the making of the Celebration Tea screened for the media.
Kannada Cinema's Latest Wallpapers
Kannada Cinema's Latest Videos
Kannada Movie/Cinema News - VP CELEBRATION TIME - Chitratara.com
Copyright 2009 chitratara.com Reproduction is forbidden unless authorized. All rights reserved.