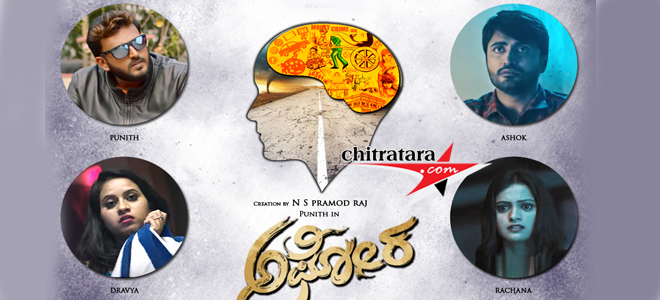 The new thought of director NS Pramod Raj is on the cosmic energy pertaining to 'Aghora' Kannada cinema but not on the Aghoris. The focus is on 'Panchabuthas' – it plays a vital role in the human being. This aspect is explained with horror dosage. Aghora, what director Pramod Raj attributes is an incident. Based on it he has stitched the story and screenplay.
Pramod Raj worked in 'Maththe Baa Upendra' as assistant dance director. The meeting of a 'Sadhu' during the shooting strikes his mind. With the inspiration of it he has made the story and opines his narration and concept is liked by the audience.
Apparently, for the first time agile actor Avinash is in the Aghori role. The make-up for his role was tough one. As he liked the concept agreed to do that role. The happening is shown in 24 hours and in one house of Bengaluru the shoot has been completed.
The film 'Aghora' is released in KRG Studios. Ashok represents Agni, Puneeth is the producer of this film and he shares screen with Avinash. He had completed the shoot two years ago. The film concisely talks on God and superstitious belief he says. Dhravya Shetty represents 'Nature' in this film. Rachana Dasharath is also in the cast.
The film Aghora is set for release on 4th of March 2022. Besides horror, there are love, sentiment and science topics.
Dr V Nagendra Prasad scored music, Sanjith Hegde and Sarigamapa Hanumanthu lent voice,, Sharath G Kumar is cinematographer.