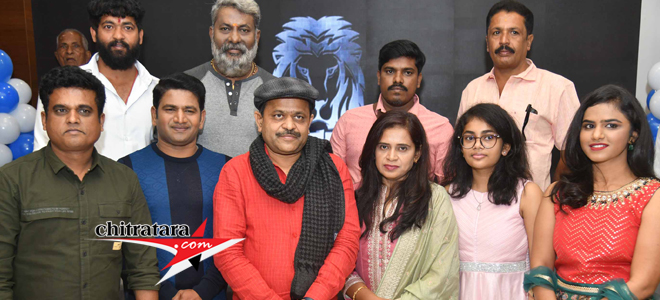 The new Kannada film 'Marakasthra' went on the floor on a special day 22/2/22 at Zion Hotel in Gandhinagar opposite to Pailwan Lassi on Tuesday morning.
The Shravya Combines produced by Smt Komala Nataraj – the muhurut held on producer`s birthday. The motion poster and the patriotic song lyrical song sung by Komala`s husband Nataraj screened on this occasion. Benkiya Jothe Sarasa Nee Madidre Saave Gathi….is penned by Manju Kavi who is Miracle Manju from this film. He is also composing music for 'Marakasthra'.
Power star Puneeth Rajakumar portrait offered flower petals as a mark of respect. The protagonist of this film Anand Arya looks somewhat similar to Puneeth Rajakumar. His dialogue is also close to Appu`s voice. How the fans would take him, the time will decide.
Gurumurthy, director of the film, is basically a wood contractor who says a weapon is used for good and bad. According to him, a Pen of a journalist is also a weapon. There is action, bondage of parents with children, how money plays a role in the society tucked in the contents of this film. Gurumurthy has worked as a short film director in the past.
Producer Komala husband Nataraj, a man with wide knowledge and singing passion, delivered two songs for this film. He has tagged music director with the word 'Miracle', director with 'Tsunami' for this film. According to him a pen is also a heavy weapon.
Anand Arya aping power star Puneeth Rajakumar is in the detective role. He had acted in 'Chaya' Kannada film and is an interior designer by profession. This is a debut for Madhurya in 'Marakasthra'. She is also from the fashion designing profession and acted in short films.
Miracle Manju is doing music for five songs. According to him, the film is capturing the picturesque locales of Sikkim, Meghalaya, and Darjeeling for the film. It will be a tourism promotion too.
Shivaprasad is Saragu Shivu the new villain in this film, Purushottam alias Dhruv Purushi is also in an important role.
Producer Komala Nataraj immensely liked the story and songs and that compelled her to invest in this film.