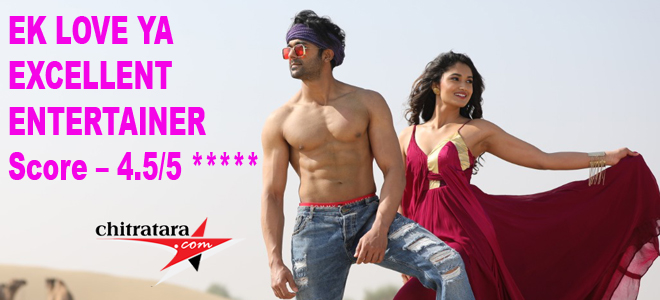 K S Vasu
Duration – 152 minutes, Category – Love Story, Score – 4.5/5
Title – EK LOVE YA, Producer – Rakshita Prem, Direction – Prem (Jogi Prem), Music – Arjun Janya, Cinematography – Mahendra Simha, Cast – Raana, Rishma, Rachita Ram, Charan Raj, Shashikumar, Deepak, Suchendra Prasad, Lakshmi Siddappa, Anil, Yash Shetty and others.
This is Kannada filmdom mighty RRR – inside the film Raana, Rishma and Rachita Ram, add one mightier Rakshita as producer – Director Prem has given an excellent entertainer that cautions the society on the most depressing atrocity – RAPE.
Jogi Prem is known for keeping the audience on the edge of their seats in his previous films but in this second half of 'Ek Love Ya' he gives an extra dosage of shock and surprise. At the same time showcase his worry on the main atrocity in the society. The first half is BRILLIANT and the second half is EXCELLENT.
This is undoubtedly a wholesome entertainer for the family – a film with quality and quantity should be regarded as the Pan India cinema. Jogi Prem`s extraordinary narration is because he gives prominence to every scene and shot. For example when he draws the protagonist to the prison for no mistake in the song portions he brings in prisoners in costume that finally explains the innocence of the protagonist.
Jogi Prem has done a study on the punishment to rapists. Out of 4,22,000 plus not even one is properly punished. At the same time, in 22 days a rape on three months child getting justice also he records in his dialogues.
Topper in studies, obedient son, aiming for a prime position in the judiciary young Amar (Raana) a handsome looking guy has fallen in love with Anitha (Rishma), the truthful love of Amar receives a jolt because the dreams of Anitha is according to the taste of her parents. When she finally agrees through a friend, hell breaks out.
We see the bearded Raana running pillar to post for Anitha. In the gap, we find a beautiful Swathi, a lawyer testing the love of Amar. Post interval there is a lot of stuff, vigor of Amar establishing to prove his innocence. How he works tactfully with the help of his friends is a treat to watch. The climax is what you have not anticipated.
For Raana this is a precise launch. He has put in all abilities to highlight that he is out in the middle of the stiff competition of filmdom. He is macho in stunts, lovely in pranks, fine in delivery of dialogues. Prem has given an abundant opportunity for Rakshita brother to figure out as a promising hero.
Rishma is stunning at places and she has the right abilities to progress in her career. Rachita Ram has gathered a lot of attention and attracts the youth through her dialogues and her stunning looks and competence is immaculate.
Charan Raj from 'Kartavyam' to this day does not have one like this. An ace lawyer he has given justice. Shashikumar as a caring father automatically falls into your hearts. Every right son deserves a father like him. Suchindra Prasad precisely suits as another caring father of heroine Rishma in the film.
The three boys of comedy time shows have given a neat and enjoyable performance.
As Jogi Prem had rightly said, the first two heroes of this film are ARJUN JANYA and cinematographer MAHENDRA SIMHA.
The songs of Arjun Janya are melodious, peppy and power packed at places. Meet Madona…Mathilla Katheyilla, Yaare Yare Neenu…Helu Yaake…Ondu Ooralli Kone Beedhili Idlu Muddu Devathe Oh Anitha….Arre Ennege Hennigu…and duet song shot in exotic locations Hage Hogu Summane….Arjun Janya`s scores are remarkable.
Every frame of this film 'Ek Love Ya' is like painting and the very high caliber of Mahendra Simha is admirable throughout the film.
From 152 minutes there was a chance of pruning 10 or 15 minutes. The sounding importance attached by Jogi Prem for 'Ek Love Ya' is first class.
The costume is another area noticed. One song for Rachita Ram with a variety of songs is so colorful, for Rishma and Raana the costume selection department worked brilliantly picking the right colors and designs.
Go for the film 'Ek Love Ya' with family and a sumptuous lunch or dinner is served by Jogi Prem and Rakshita Prem.