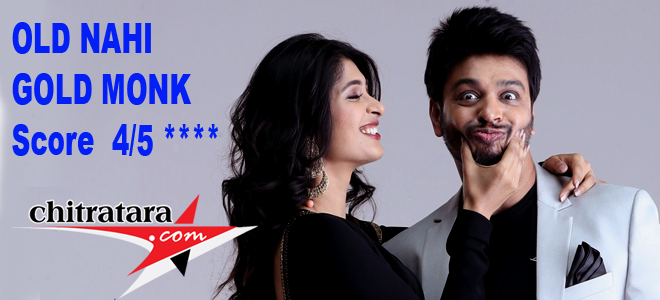 K S Vasu
Duration – 131.56 minutes, Category – Love story, Score – 4/5
Title – OLD MONK, Producers - Pradeep Sharma, Srujan Yarabolu, Saurabh-Vaibhav, Srini, Music - Saurabh-Vaibhav, Cinematography : Bharath Parashuram, Cast - Srini, Aditi Prabhudeva, S Narayan, Sihikahi Chandru,Sujay Shastry, Dr Rajesh, Aruna Balaraj.
Writer, director and actor SRINI knows the tricks of the trade. He is extremely good in all his areas for 'Old Monk' – this is a thoroughly enjoyable family entertainer. The good speed of the film, contents gathering good attention right from first shot in Devaloka Srini gives a fine finishing with his arch rival – a delectable maker has given a very decent and refreshing entertainer.
Srini as a director and creative writer team Santosh NandaKumar, Prasanna V and Raghavan Lakshman takes the challenges to unveil with brilliance. For this, the climax part is an outstanding example.
Sambhavami Yuge Yuge, Priti Prema Hoge Hoge…is what Lord Krishna says and curses Naradha! Back in Bhuloka (earth), a child is born and named as Appanna for parents S Narayan and Aruna Balaraj. A strict family where no love marriage is permitted. As he grows, Appanna is HR Manager in a company and with a good heart to his colleagues is mistaken for not permitting easy movement of male and female employees. There is no Krishna and Radha idol – only unmarried God photo is permitted. Appanna's strict approach to colleagues cost his job. But of course, his colleagues understand his 'Gold Heart'.
Now Appanna is in love with Abhigna (Aditi Prabhudeva) , a caretaker of an old age home. Although in love with Appanna she is forced to marry Radhakrishna, son of a politician who has an old rivalry with Appanna.
Appanna takes up further challenges on his head and efficiently solves it so that you have to watch it on the silver screen.
Srini is very comfortable as a hero. His dialogue delivery, smiling face wins applause for him. As a director, he has done very hard work in making a compact film for the family.
Aditi Prabhudeva is the right choice because she is at ease in this kind of role. Aruna Balaraj as a mother in a chat with her son Appanna in the film wins the hearts of family members. S Narayan as father has given a sensible performance, Sujay Shastry comedy punch is very special and evokes good laughter. The old couples in this film are very fine in their performance. Late Dr Rajesh haunts in a few minutes of his stay in the film.
Gichcha Gili Gili….is a very fine song captured well with technicalities. The music director duo has given a terrific background score. Cinematography is absorbing because every frame is pleasant to the eyes.
This is a watchable film by a family audience. Worth your money undoubtedly!