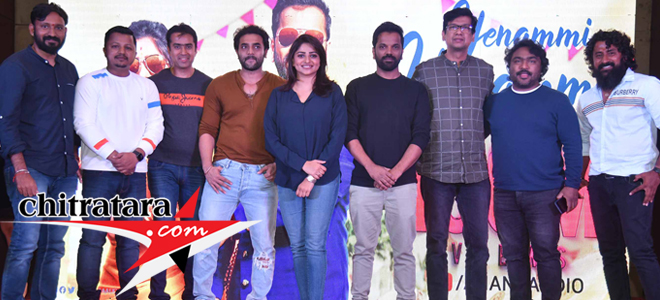 It is a rare feat for the most popular and prestigious Anand Audio. The song from 'Ayogya' Kannada cinema Enammi Enammi….got 100 million hits = that means over 10 crores is a biggest celebration moment for Anand Audio.
The 154 minutes 'Ayogya' Kannada cinema released on 17th of August 2018 in the production of T R Chandrasekhar of Crystal Park Cinemas in S Mahesh Kumar direction collected well at the box office.
Among five songs in the film 'Enammi Enammi….sung by top playback singer Vijay Prakash and Palak Muchchal is runaway hit – this song is shot on actors Ninasam Satish and very beautiful and talented Rachita Ram. Bahaddur Chetan Kumar had provided the lyrics for this song and Arjun Janya is music composer of this 'Ayogya' Kannada film.
At the Hotel Bengaluru International Anand Audio celebrated the song 'Enammi Enammi….success and huge reach. The team members presented a trophy on this occasion. The debut cinema of S Mahesh Kumar 'Ayogya' had given a breakthrough for him.
Srimurali graced the event to present mementoes for the team members. Anand Audio organized a pleasant evening. Director Mahesh Kumar stated that it is the last event pertaining to the film 'Ayogya'.
Rachita Ram remembered all connected to the super hit status of the song 'Enammi Enammi….she received the trophy from Srimurali and a gift pack from Shyam of Anand Audio.