16th VARADAPPA AWARDS PRESENTED
Posted date: 27 Sun, Feb 2022 05:47:41 PM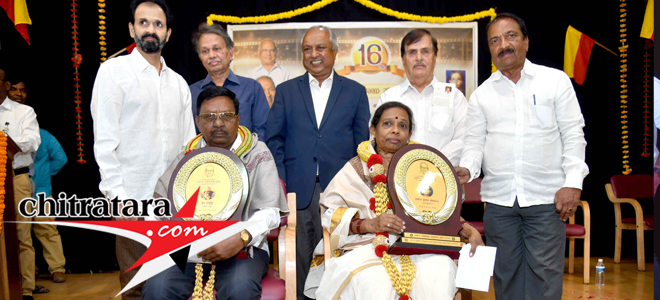 The 16th annual awards of SP Varadaraj awards were presented at Kannada Sahitya Parishat on Saturday 26th February evening in the presence of Justice Nagamohan Das, Raghavendra Rajakumar, Chindodi Bangaresh and others by Prof Baraguru Ramachandrappa and team.
Smt Prema Hosmani of Tumakuru received SP Varadaraju award for her contribution on stage and very humble Chikkanna got the award for his yeomen service in cinema as director.
Prod Baraguru Ramachandrappa at his welcome address stated Raghavendra Rajakumar is 'Dr Rajakumar family Sarvajanika Rayabhari'. On the 'Viveka' that is 'Varadappa' that worked for Dr Rajakumar films he immensely lauded his strength. Varthamana was working for 'Varthamana and Bhavishya' = Dr Rajakumar was Sthitapragna while Varadappa was 'Drushya Pragna'. When Kala Prabhutwa and Katha Kushalathe work together good films ought to come – Dr Raj had the strength of 'Hrudaya Samvada' and Varadappa is regarded as 'Drushya Deepa' he opined in his well-measured address.
The daughters of Varadappa, Lakshmi Govindaraju, Poornima Ramakumar, SA Chinne Gowda, Green House Vasan, Navayuga Hotel proprietor, Dr Rajakumar caretaker Chinna and others were present at the simple and sensible event.
Kannada Cinema's Latest Wallpapers
Kannada Cinema's Latest Videos
Kannada Movie/Cinema News - 16th VARADAPPA AWARDS PRESENTED - Chitratara.com
Copyright 2009 chitratara.com Reproduction is forbidden unless authorized. All rights reserved.