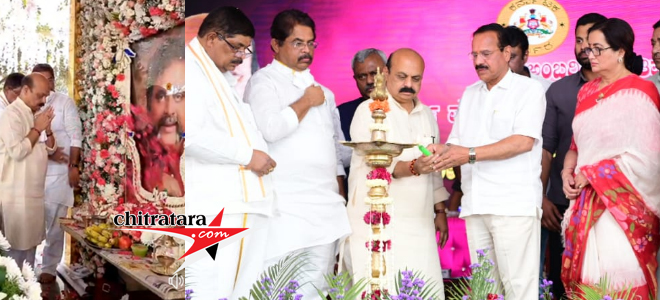 The Karnataka Chief Minister Basavaraja Bommai, former Union Minister Sadananda Gowda, Food and Civil Supplies Minister Gopalaiah, Sumalatha Ambarish, Member of Parliament and others were present at the Dr Ambarish Memorial foundation-laying event at Sri Kanteerava Studio on Sunday.
The Memorial of Ambarish surrounded by Dr Rajakumar 'Punya Bhumi' and Dr Parvathamma Rajakumar and power star Puneeth Rajakumar will be one of the best felt Karnataka Chief Minister Basavaraja Bommai in his address. I have shared 40 years of friendship with Ambarish – traveled with him, had food, discussed various aspects in my career, remembered CM.
Karnataka Chief Minister went in detail on the qualities of Dr Ambarish and he always lived for 'Atma Shakshi'. He never opted for power and he is a 'Meru Nata' explained Karnataka CM BB. He was like 'Ajatha Shatru'.
The state lost Dr Rajakumar, Dr Vishnuvardhana, Shanker Nag, Puneeth Rajakumar. We would work out on the Memorial of Puneeth soon and the date of announcement of 'Karnataka Rathna' is under discussion, he said.