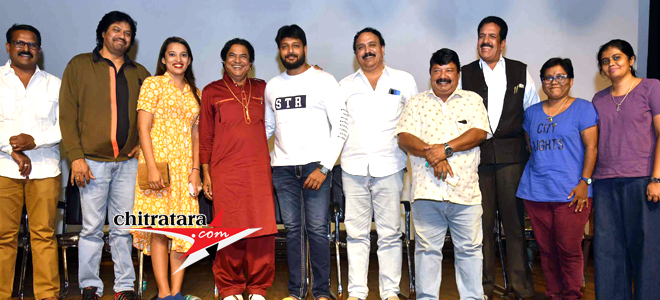 'Ondu Nimishada Kopa Jeevanavella Shaapa' – based on this the new Kannada film 'ANJAN' starring Anjan in the production of Europe returned Pradeep S released the trailer of the film at Dr C Ashwath Kala Bhavana in NR Colony, Bengaluru.
The Basavanagudi MLA Ravi Subramanya released the trailer and blessed the team and hailed the 'Kannada Prema' of producer Pradeep S who stayed in Europe for a long time in his life.
Producer Pradeep S of 'Prathibimba' Kannada film second film is 'Anjan' and his third film 'Bank Loan' is also under production with two female directors. Producer Pradeep plays a villain role in this film and he introduced Rashmi and Poornima directors of his third film. The duo`s female directors are in their third film.
Producer Pradeep hero Anjan was given the title of 'Mass Maharaja' from this film. According to Pradeep the film 'Anjan' is about the youth coming from village to city in search of his sister. Unknowingly he is locked in the underworld.
An Anjan Kannada film with a sub-titled 'Guts of Human' starring Anjan is set for an early release. Anjan in the last 20 years worked in different areas of the cinema industry. He was a junior artist, villain and gym trainer for challenging star Darshan. Now he is the hero of the film that bears his name. in 23 days we shot for the film that includes four songs and four action portions he says. He has two shades in the film. For the well being of his sister he gets into rowdyism in the film.
Sagar, director of the film, explained that an innocent person gets into a rowdy activity in this film. Female lead Joshita Anola of Tulu films, web series is a village girl who is rough and tough in the film.
Gopi Kalakar and Vinu Manassu jointly done music, Guru Dutt Musuri is cinematographer.
At the trailer launch senior TV and cinema actor Mico Shivu and director Guruprasad blessed the new producer Pradeep Soans.
It is Pradeep Sagar Movies Anjan that has Kote Raju action and Maruthi SP dance direction, apparently the poster of Anjan is a mix of Dr Shivarajakumar and Darshan – it just happened, says Anjan.