GATHA VAIBHAVA FIRST LOOK COMES
Posted date: 02 Wed, Mar 2022 12:36:45 PM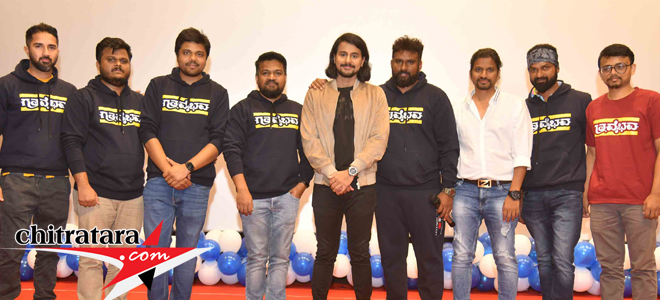 Eminent director Simple Suni has come up with another attractive first look of his latest film 'Gatha Vaibhava' starring debutant Dushyanth son of sitting MLA from Gubbi Srinivas.
For the first look release of Simple Suni as director and co producer his colleagues Pawan Wodeyar, Mahesh Kumar besides producer Pushkar Mallikarjunaiah, Supreeth and Lahari Audio Velu attended the event at Dr Ambarish auditorium in Kalavidhara Bhavana. Deepak Thimmappa is joint producer with Simple Suni of 'Gatha Vaibhava'.
The debutant actor Dushyanth who looks all set to become a solid actor on Kannada screen recalled his journey and how he got inspired to take up acting leaving the Law qualification. He studied in London for three years in Law but continuous urge pushed him to this field. I have my mother`s support but my father is not interested in me coming to films he recalled. Dushyanth remembered what Power star Puneeth Rajakumar had told about his future. He even remembered a few others pinpointing him as an actor mustered courage in him to become an actor.
Dushyanth`s father hailing from Tumakuru an MAL from Gubbi constituency Srinivas went on at length on what he wanted from his son and what he has become. Not absolutely ready to accept his son in the film, Srinivas finally blessed the team.
What is 'Gatha Vaibhava'? Simple Suni what has happened in the past is the memory check of the protagonist. He will be seen in different get ups – right from Vascodigama there are some historical significance. There is a lot of fun, mind game, and sentiment. Dushyanth has no stage fear. The dubbing he had done for the trailer got very good appreciation. We have plans to shoot in April month said Simple Suni.
Producer Deepak stated that he is friend and neighbor of Dushyanth for the last 20 years. When he disclosed his proposal I came up with the project.
Cinematographer William David, music director BJ Bharath, editor Ashik, Art director Shivakumar, VFX supervisor Nirmal Kumar, stunt director Chetan D Souza present to explain the experience so far connecting to 'Gatha Vaibhava'.
Kannada Cinema's Latest Wallpapers
Kannada Cinema's Latest Videos
Kannada Movie/Cinema News - GATHA VAIBHAVA FIRST LOOK COMES - Chitratara.com
Copyright 2009 chitratara.com Reproduction is forbidden unless authorized. All rights reserved.