UDAYA TV NEW FICTION SHOW ``MADHUMAGALU``
Posted date: 03 Thu, Mar 2022 09:24:57 AM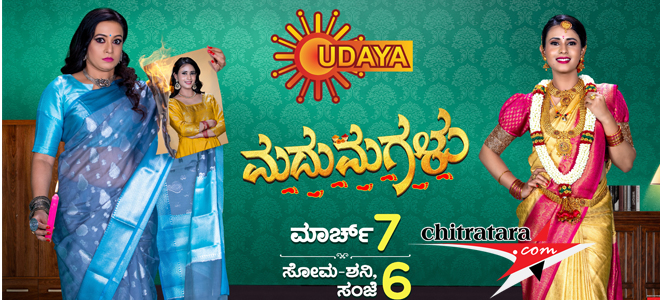 Udaya TV is the channel of hearts when it comes to entertainment. Be it movies or serials, Udaya TV has won accolades. Every story is different, every narrative is different, by mentioning it, Udaya TV is all set for its new launch `` Madhumagalu``. Shows like Kavyanjali , Kasthuri Nivasa , Nayantara , Nethravathi , Kanydhana , Channel has always focused on family values and togetherness . Madhumagalu is joining the group having the same family theme as the main focus.
Madhumagalu is a unique show with a different story line, as it gives a rollercoaster experience in every episode. Heroine who is the daughter of the house, becomes a daughter in law. Powerful theme may evoke questions of how will a daughter become the daughter in law, team promises that episodes of the show will give a view of it. Madhumagalu is produced by the same team which produced the popular show of Udaya Tv , Kavyanjali.
Madhuvanthi is a woman of substance, she gives birth to a girl and with the influence of her wicked brother , he changes it into a baby boy. Destiny brings them together where mother daughter face each other after 24years , Greeshma , lead of the show is a bold rightful and daring girl. `` As is the mother , so is her daughter``goes the quote and with the same fire and vibe , each time madhuvanti and greeshma face , hate evokes. Shishir , hero of the show , has the exact opposite qualities unlike his mother. Madhuvanthi has the softer heart for her son and bringing in a well deserving daughter in law is all the dream she has got. Destiny plans its drama as shishir and greeshma meet and eventually fall in love. How will these hidden truth affect each relationship, will there be a light of acceptance, Madhumagalu is all set to answer all the questions.
Newbies Rakshitha and Bhavish are acting as the lead of show, with them popular artists Sirija , Rekha Rao Sundar veena , Ravi bhat are the star cast. Adarsha Hegde who has earlier directed Kavyanjali is all set to take the captainship of the show with Camerman Rudramani. Shak Studios is producing the show.
Madhumagalu is getting launched on March 07th. It airs from Monday to Saturday at 6:00 pm only on Udaya TV.
Kannada Cinema's Latest Wallpapers
Kannada Cinema's Latest Videos
Kannada Movie/Cinema News - UDAYA TV NEW FICTION SHOW ``MADHUMAGALU`` - Chitratara.com
Copyright 2009 chitratara.com Reproduction is forbidden unless authorized. All rights reserved.