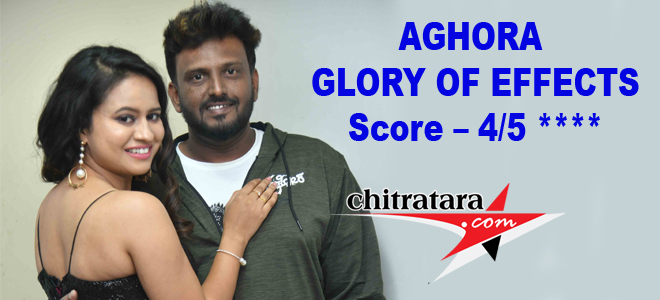 K S Vasu
Duration – 130 minutes, Category – Horror Thriller, Score – 4/5
Title – AGHORA, Producer – Punith MN, Direction – NS Pramod Raj, Music – Dr V Nagendra Prasad, Cinematography – Sharath Kumar, Cast – Puneeth, Dravya Shetty, Ashok, Rachana Dasharath, Avinash and others.
Aghora is Gori inda Eddu Bandavaru! This is partially true. But at the outset director Pramod Raj looks at the 'Gap' between death and rebirth. From the days of 'Exorcist', we have seen many horror films. This 'Aghora' is also similar but the visual impact is what stuns the audience at many places in the film. The Vama Marga and Sathwika Marga are the packaging of this film.
In fact, the glory of the film is the 'Gory' of visual excellence in the film. The tables, chairs, papers, elephant idols and other properties are used for stunning impact.
The proceedings shown in the film happen in 24 hours. The newlywed Akash and Prakruthi with Bhumi (Akash sister) try out something unexpected. To this team joins Agni – the four in the house are locked in a house. How the witchcraft effect disturbs the four is a major part of the film. The presence of Avinash an 'Aghori' settles the scores in the end.
Punith Gowda, Dravya, Rachana and Ashok have done very well in their roles. The fear they express and how they react is impressive.
The background score for this film is on top gear. The visual effects department steals the show. The message from Avinash character as 'Aghori' no ritual should be half completed is point to be noted.
The visual impact and horror element stuns you especially in the second half. Worth a dekko!