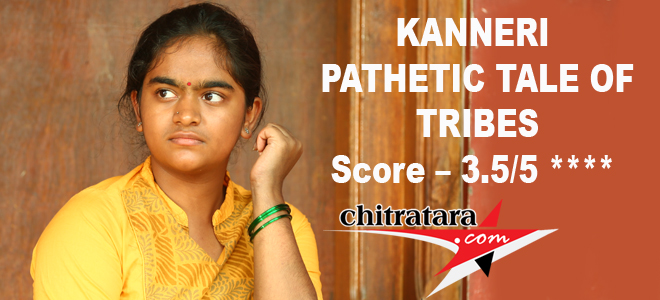 Duration – 122 minutes, Category – Tribal Tale, Score – 3.5/5
Title – Kanneri, Producer – Buddi Deepa Production house, Direction – Ninasam Manju, Cinematography – Ganesh Hegde, Music Manikanth Khadri, Cast - Sardar Sathya, Archana Madhusoodhan, Nehal Haalekaai, MK Matha, Arun Sagar, Chandraprabha, Master Hemanth Gowda, Siddaraju Kalyankar, Niranjan, Seetharam, Somanna and others.
In Mooka Hakki director Ninasam Manju looked at the trials and tribulations of nomads, in Kanneri he looked at the fate of tribes in the rush of urbanization. Based on Kotaganahalli Ramaiah concept that dates back to 1985 'Kanneri' is a mix of tribal hopeless life and urban torture.
The narrative form of direction Ninasam Manju holds your attention and the flashback technique highpoint being 'Muthamma' innocence touches your hearts.
The tribal innocent facing false charges are beaten black and blue. In this, gory set back innocent Muthamma struggles hard to save her grandfather Bommajja. She goes to the city as a maidservant with the help of Ranganna. In the city, she faces the extreme torture from the house owner Anitha Bhat. Muthamma is charged wrongly for kidnapping Sathvik`s mother Anitha Bhat.
The hapless condition of Muthamma reopened with the entry of a documentary film maker and he takes key initiation in reopening the Muthamma case. A sincere lawyer (played by Arun Sagar) digs into this case and justice is given with a touching message from Muthamma at the end.
The performance of Archana Madhusoodhan as Muthamma is good. She looks natural. Kari Subbu, MK Matha, documentary filmmaker Nehal, and Master Hemanth gave good performances.
The songs from Manikanth Khadri are too good especially Kanada Oorige… haunting for a long time. The cinematography of Ganesh Hegde, especially aerial shots are mind blowing.
This is worth watching for tribal life difficulties, how the innocents are treated shabbily in society.