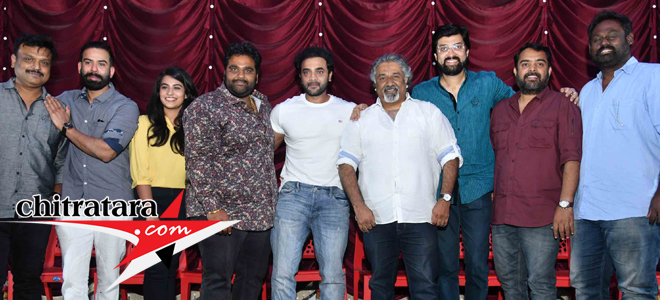 The highly anticipated film for Santosh alias Aryan Santosh `Dear Sathya` is hitting the silver screen on March10th. In the last one and half decade Santosh struggled very hard and this is expected to be a breakthrough for him in commercial cinema.
`Dear Sathya` theatrical trailer was released by Roaring star Srimurali at Renukamba Digital Theater. It is Purple Rock Entertainer and Winter Bridge Studio film produced by Ganesh Pappanna, Yathish Venkatesh, Srinivas S and Ajay Aparoopa. Producers Yathish, Ganesh Pappanna and Srinivas remembered the birth and shape up of the film `Dear Sathya`.
Remembering his long time friend Santosh who is Aryan Santosh from this film, Srimurali wished good luck to him and to his friends in the team Yathish and Ganesh Pappanna. Srimurali appreciated the trailer and the Uppi song is my favorite one he said. Santosh should win the `battle` of box office, he felt.
This film was supposed to come in Tamil. The Paris Corner opposite Chennai High Court place is the inspiration for this real story based cinema. With the story on hand I have waited for a long time to get a producer. It was first Ganesh Pappanna heard the story and approved. Once the film got over, Corona bothered us. Now every struggle is over and I hope positive results for this film mentioned handsome looking Aryan Santosh. Santosh immensely thanked Srimurali and the production house for the opportunity extended to him.
Archana Kottige is a very busy actor today with 18 films on hand as the female lead says this is her first commercial film and is hoping for the best.
Shiva Ganesh in his third film said it is the dream of Aryan Santosh, cinematographer Vinod Bharathi, music director Sridhar Sambram, Karthik, Balu Verma, playback singer Vihan, dance director Geetha, Adarsh, Girish were present at the pre release event.
According to one of the producers Ganesh Papappanna it is a classical commercial hitting in over 100 screens. Co-producer Srinivas says we are entering the distribution field from this `Dear Sathya` film.