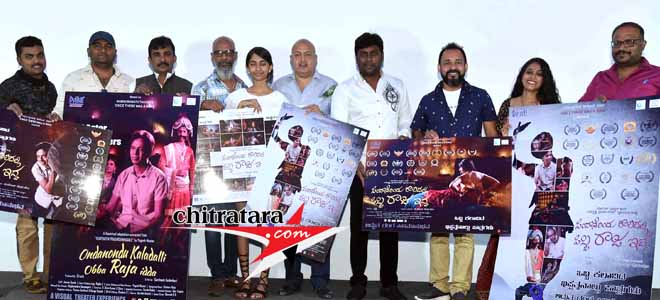 'Ondanondu Kaladalli Obba Raja Idda' (OKORI) by Drushti Media Santosh Kodenkeri is a very special film for the novel attempt. It is a film with one character Yogesh Master playing 24 characters with technical brilliance in cinematography, makeup, editing etc.
The film with 11 on the floors worked for 25 days remembers Santosh and the regional censor given U/A certificate for this film – the film OKORI has entered 15 international film festivals but it did not got selected for the 13th Bengaluru International Film Festival.
This film is a theatrical narration with celluloid techniques, extracted from 'Ekavyakthi Pradarshanagalu' by Yogesh Master, designed & directed by Santhosh Kodenkeri is based on 'Once There Was a King' by Rabindranath Tagore that have innocence in story-telling, character involvement and respect towards the story teller.
Drushti Media producing the film, Yogesh Master is in all 24 characters, Designed & Directed by Santhosh Kodenkeri, Lyrics, Dialogue and Music Director Yogesh Master, Background Music: Chintan Vikas, Singers B R Chaya & Chintan Vikas, D O P is Jeevan Gowda, Audio Records & Editor is Raghu, Makeup & Hair Dresser by Raghavendra Davanagere, Costume Assistant: Shivu, SFX & 5.1 Mixing: Shankar D, Colorist: Karthik Ananth (Future Age Studio), Production Incharge :Pavana Santhosh & Ganga Yogesh.
Rohith Manjrekar present at the trailer launch at Renukamba Digital Theater went on a flashback and consoled director Santosh K on the aspect not selected for the festival in Bengaluru.