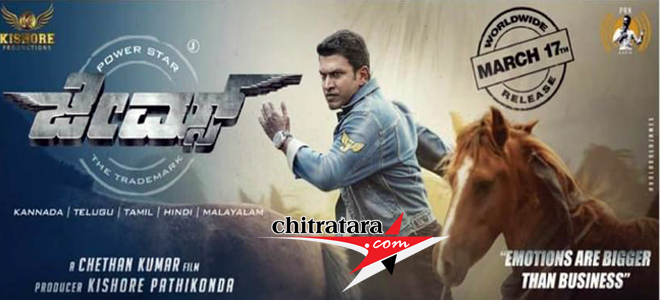 The biggest film with biggest sadness -release of James Kannada film last commercial film of power star Puneeth Rajakumar gets the U/A certificate.
The film is heading for release on 17 March worldwide.

Director Bahaddur Chetan Kumar and producer Kishor Pathikonda is making hectic efforts to bring everything in proper way.

Well known director Chetan Kumar has stated that Power star Puneeth Rajakumarnlast film James is all OK for release on March 17, 2022. The birthdaybof Appu.

Power star Puneeth Rajakumar immense support, involvement and his urge for good quality film without affecting the ideals of director is impeccable.

On Sunday evening the James pre release event is attended by Dr Shivarajakumar.

More details are coming up from team leaders.